Spartan Mountain Series
Spartan is taking over Whistler. Challenge yourself to take on the best obstacle course race in Canada.
Event Information
---
The twin summits of Whistler and Blackcomb tower over the peaks of British Columbia, Canada, less than two hours north of Vancouver. Between them lies the Whistler Blackcomb resort, the largest ski resort in North America. Originally home to multiple 2010 Winter Olympic events, Whistler Blackcomb will host a Super, Sprint, Trail and Kids Race and across one unforgettable weekend.
Take on a thrilling race along the mountain slopes, designed to test the grit of seasoned racers and casual mountaineers alike. This stunning course is also part of the Spartan Mountain Series, presented by the U.S. Air Force Special Ops.
There are different courses to choose from: 5K Sprint, 13K Super, 10K Trail and 1-3K Kids Courses
Not ready to run the race yourself? Why not Volunteer?
Top reasons to take on this course:
---
At Whistler Blackcomb, there's no such thing as an off-season. From gondola rides to hiking to tasting tours in Whistler Village, there's plenty to do on and around the mountains.
Discover the beauty of the 10,000 year old Whistler Glacier, which sits at the peak of Whistler mountain. View this stunning natural formation from afar, or take a hike to the summit and experience it up close.
Whistler Blackcomb is the perfect spot for thrillseekers of all ages. Tour the 2010 Olympic bobsleigh venue while racing down a bobsleigh course. Or, get a scenic view of the mountains while suspended 426 feet above the ground on the Cloudraker Skybridge.
Unwind after your race with a visit to the Scandinave Spa. Soak in an outdoor hot tub, get a massage to ease the post-race soreness or treat yourself to some traditional Finnish hydrotherapy.
Lodging Deals
---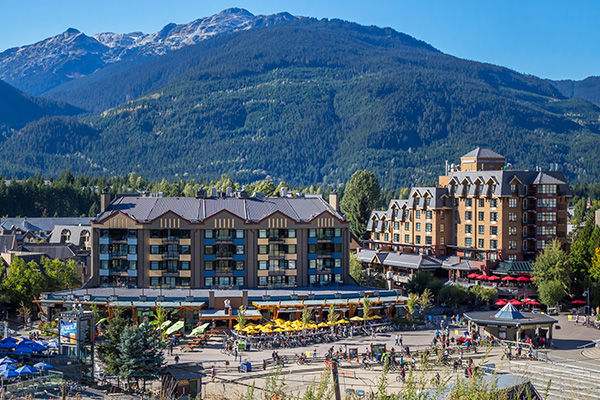 Save up to 15% off lodging
Whistler Summer Deals
Summer adventures await both on mountain and in the village. Save big on your next getaway to BC's most iconic destination.