Explore Whistler on an ATV
ATV TOURS
The best time you can have on four wheels
---
Experience the thrill of exploring Whistler on an ATV. Climb higher and higher to experience some of the most beautiful and unique views that we have to offer, dip through the Callaghan Valley or rise above Blackcomb Mountain to check out the scenic views. From beginner adventures to experienced explorations, you'll find the perfect ATV experience for you.
Canadian Wilderness Adventures is one of the premier outdoor activity groups in Whistler. Their ATV tours include the famous Salmon Bake at the Crystal Hut and Mountain Explorer on Blackcomb Mountain, as well as the Call of the Wild and Wild Wild West tours in the Callaghan. These adventures, designed for your comfort, ability and skill level are guided by their experts, keen on showing you the best time you can have on four wheels.
2 Hours roundtrip
Blackcomb Mountain Explorer
Discover Blackcomb Mountain the 'Canadian' way on our most popular ATV Whistler adventure. Enjoy breathtaking views of the Whistler Valley and snowcapped peaks of the Coast Mountain Range. Test your skills in our single track terrain park (optional) while you explore a network of wide mountain trails ascending to Blackcomb's beautiful alpine. A great mix of exploring, sightseeing, and adventure; don't forget your camera!
Departs: 11:00am, 1:30pm, 4:30pm
Starting at
$159 CAD
$118 USD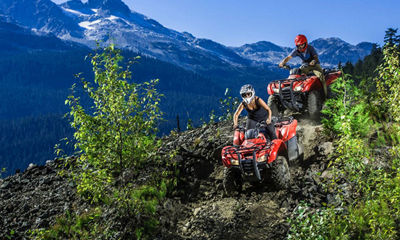 3 Hours roundtrip
Call of the Wild
Explore the spectacular Callaghan Valley, with its unique geographical setting and phenomenal scenery. Come try out 4km of single track and tackle the rugged natural terrain. View the old growth forest and a historical mine site. Discover why the Callaghan is Whistler's most inspirational setting for adventure.
Departs: 9:00am, 12:00pm, 3:30pm
Starting at
$179 CAD
$132 USD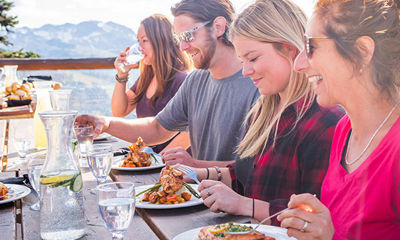 4 hours roundtrip
Salmon Bake by ATV
An unforgettable adventure! The original Whistler salmon bake at the Crystal Hut, known by reputation as Whistler's best adventure dining tour. You'll enjoy the incredible experience of climbing your ATV 6,000 ft up Blackcomb Mountain to the most spectacular patio in Whistler. Relax and enjoy the sweet sounds of live entertainment as your chef prepares a Pacific Coast classic including cedar-planked, maple glazed wild BC Salmon, local vegetables, fresh salads and a delicious dessert. Treat yourself to a unique dining experience like no other!
Departs: 4:00pm
Starting at
$229 CAD
$169 USD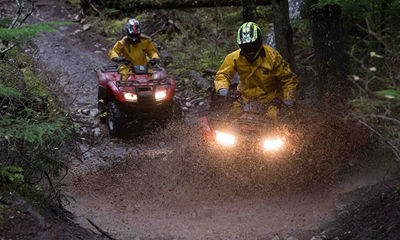 4 Hours Roundtrip
Wild Wild West Tour
A more challenging ATV ride through the rugged terrain of the Callaghan Valley and along Whistler's longest single track ATV trail. Experience the pristine wilderness of Whistler's backcountry as you travel along forested trails, up the challenging Staircase, across narrow bridges and through natural ATV playgrounds.
Departs: 12:00pm
Starting at
$205 CAD
$151 USD
Need help booking?
We guarantee the lowest prices. Our team of Local Experts can help you plan the perfect Whistler vacation.
---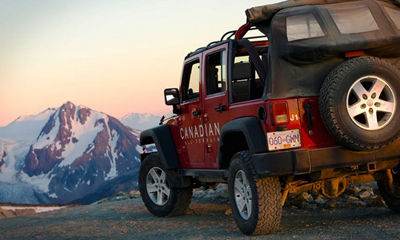 4 x 4 TOURS
Take a ride through beautiful Whistler going over bumps and bridges as you reach the best viewing areas.
More Info
4 x 4 TOURS , opens in a new window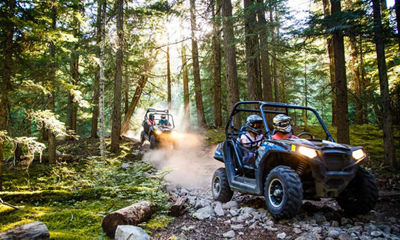 UTV TOURS
These off-roading buggies will take you up the mountains, over rocks and hills through the back-country.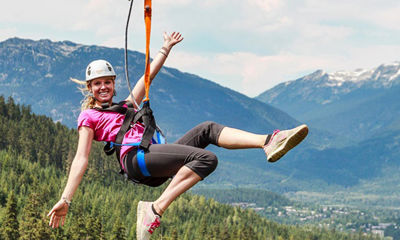 ZIPTREK ECOTOURS
Experience a high flying adventure of ziplining between Whistler and Blackcomb Mountains.
More Info
ZIPTREK ECOTOURS , opens in a new window