Summer 2022
BEAR VIEWING TOURS
With a population of over 60 black bears, sightings from the Whistler Village Gondola are a common treat. For a closer look, book a bear viewing tour with one of our bear experts.
BEAR VIEWING TOUR INFO
---
Whistler and Blackcomb Mountains are home to up to 60 black bears and cubs that have adapted to feeding, mating, and hibernating within ski area habitats. This is the only population of black bears in B.C. that has been studied for over two decades.
Travel in a comfortable 4x4 vehicle through a maze of ski area roads that traverse the largest concentration of mother bear ranges in the region. Bear feeding patterns shift from valley bottom to higher mountain elevations as the summer continues, and the tours follow this progression allowing access these hidden scenic alpine ecosystems and natural habitats any time of the summer. Take an even closer look with short walks to bear feeding sites and bear family daybeds, and wander through old growth forests where bears have hibernated through many winters.
Our experienced and qualified team of guides boasts a wealth of knowledge of Whistler's flora and fauna, ecology and bear biology for a truly incredible outdoor learning experience.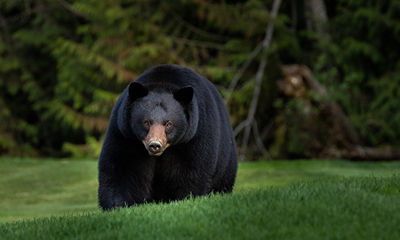 Get a closer look
Experience Whistler's famous black bears and cubs in their natural habitat along with the wildlife, vegetation, glaciers, and rainforests of Whistler and Blackcomb Mountains. Visit bear dens and wander through pristine alpine meadows and old growth Western Hemlock forests.
Learn how conservation and enhancement initiatives help to sustain healthy populations, and how mountain resorts are continually redesigning recreational experiences to ensure a sustainable future.
Back for Summer 2022
TOUR DATES & RATES
| DATES | MORNING | MIDDAY | EVENING |
| --- | --- | --- | --- |
| May 22 - May 31 | 7:30am - 10:30am | No Tour | 6:00pm - 9:00pm |
| June 1 - July 14 | 7:30am - 10:30am | 12:00pm - 3:00pm | 6:00pm - 9:00pm |
| July 15 - August 14 | 7:30am - 10:30am | No Tour | 6:00pm - 9:00pm |
| August 15 - September 14 | 7:30am - 10:30am | 12:00pm - 3:00pm | 5:00pm - 8:00pm |
| September 15 - 30 | 7:30am - 10:30am | 12:00pm - 3:00pm | 4:00pm - 7:00pm |
| October 1 - 7 | 7:30am - 10:30am | No Tour | 2:00pm - 5:00pm |
| October 8 - 17 | No Tour | No Tour | 2:00pm - 5:00pm |
No Mid Day Tours: Before June 1, July 15 - August 14, October 1 - 31.
No Morning Tours: October 8 - 31.
RATES
MAY 1 - JUN 30
SEPT 1 - OCT 31
JUL 1 - AUG 31
Adult 19-64
$205 + tax
$245 + tax
Children/Youth & Senior (65+)
$195 + tax
$235 + tax
Private Tours
$1,149 + tax
$1,249 + tax
Please Note: Bears are easily scared away by noise and commotion, therefore this tour is recommended for ages 7 and up.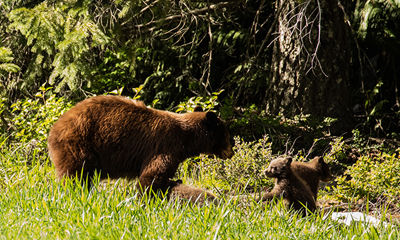 BEAR TOUR NOTES
Meeting at the Bear Viewing Tent at the Base of Whistler Mountain, opposite the Village Gondola, please arrive 15 minutes prior to tour start.
Recommended for children 7+ years old.
Dress in layers and wear sturdy footwear. Don't forget your camera and/or binoculars. (1 pair of binoculars are available to share.)
Do not bring insect repellent: Insect repellents and strong smelling perfumes may impact the viewing experience.
Please avoid wearing any perfumes on tour. According to the number of scent receptors, the bear has the best sense of smell of all terrestrial mammals. Black bears have been observed to travel 18 miles in a straight line to a food source and run quickly away from scents they don't understand (perfume).
All tours are subject to weather conditions. Please note that bear sightings are not guaranteed, as activity is dependent on weather, food supply, other bears, and human activity.
Need help booking?
We guarantee the lowest prices. Our team of Local Experts can help you plan the perfect Whistler vacation.
---