Take a ride through beautiful Whistler
4X4 TOURS
Bumps, bridges & the best views
---
Take a ride with Canadian Wilderness Adventures, through beautiful Whistler going over bumps and bridges as you reach the best viewing areas in Whistler with a fantastic 4x4 Tour. You're not just going to experience any car ride, these 4x4 tours climb deep into the Callaghan Valley and over the hills of Blackcomb to bring you to some of the most beautiful scenic views in Whistler.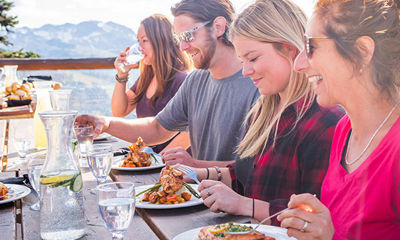 4 Hours roundtrip
4x4 SALMON BAKE Tour
An unforgettable adventure! The original Whistler salmon bake, known by reputation as Whistler's best adventure dining tour. You'll enjoy an incredible experience of climbing 6,000 feet on Blackcomb Mountain by 4X4 to the Horstman Glacier and then arriving at the Crystal Hut with the most spectacular patio in Whistler. Relax and enjoy the sweet sounds of live entertainment as your chef prepares a West Coast classic including maple glazed, wild BC Salmon, local vegetables, fresh salads and a delicious dessert. Treat yourself to a unique dining experience like no other!
Departs: 4:00pm
Starting at
$229 CAD
$169 USD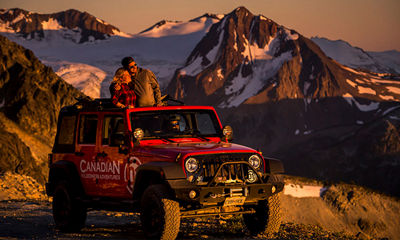 2 hours roundtrip
BLACKCOMB SUNSET 4x4 TOUR
Venture up to Whistler's best viewing area for a famous alpine sunset and leave the day behind you. Relax and breathe in fresh alpine air at 6000 ft. Nesting alpine birds sing a chorus while nature gets ready for bed. Be one of the lucky few to enjoy the unique Alpine Glow as the sun slips behind the snowy peaks of the Coast Mountain Range. Sit back and take it all in as you descend through the peaceful dusk of evening to the sparkling lights of Whistler Village.
Departs: 8:00pm
Starting at
$179 CAD
$132 USD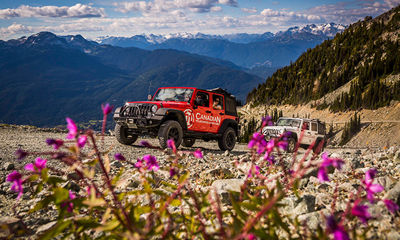 2 hours roundtrip
BLACKCOMB GLACIER SAFARI TOUR
Take a closer look at Blackcomb Mountain on Canadian's 4X4 tour. No two tours are the same as the changing mountain colours and wildlife create new paths for exploration. Ascend from Whistler Valley past glacier fed rivers. View bears and other mountain wildlife on the way to the snow-capped Horstman Glacier. Highlight your vacation with Whistler's ultimate 4×4 adventure. Enjoy spectacular views of the Whistler Village and the Coast Mountain Range, as your professional driver navigates Blackcomb's winding trail system.
Departs: 10:00am, 12:30pm, 3:00pm
Starting at
$179 CAD
$132 USD
Need help booking?
We guarantee the lowest prices. Our team of Local Experts can help you plan the perfect Whistler vacation.
---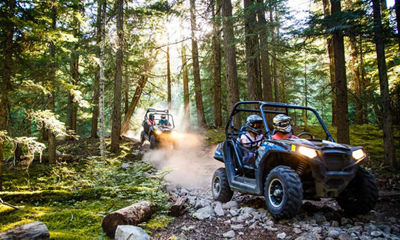 UTV TOURS
These off-roading buggies will take you up the mountains, over rocks and hills through the back-country.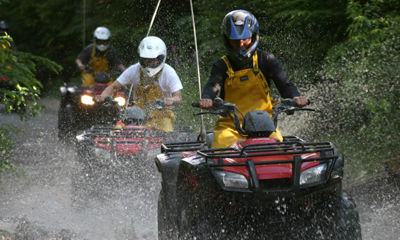 ATV Tours
Climb high to experience some of the most beautiful and unique views on a thrilling ATV ride.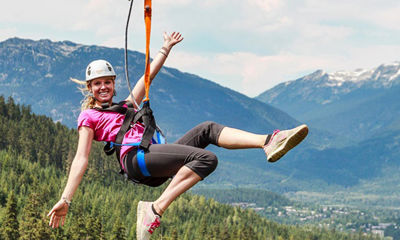 ZIPTREK ECOTOURS
Experience a high flying adventure of ziplining between Whistler and Blackcomb Mountains.
More Info
ZIPTREK ECOTOURS , opens in a new window