Squamish Lil'wat Cultural Centre
Experience the Culture
---
The first centre of its kind in Canada, the Squamish Lil'wat Cultural Centre (SLCC) shares rich culture and traditions with visitors through song, film, story, and exhibitory.
Cultural Ambassadors from the Squamish Nation and Lil'wat Nation share their cultures in this immersive centre during the hourly guided tour offered on the hour, every hour, 10am – 4pm. The hourly guided tour includes a traditional welcome song, fifteen minute film, and exhibit tour. After the tour, guests are encouraged to revisit areas of the museum that piqued their interest; for those tight on time they can explore the Gift Shop and Thunderbird Café, both located in our admission free area.
Information
---
Location
Squamish Lil'wat Cultural Centre is located at 4584 Blackcomb Way (adjacent to the Four Seasons Resort Whistler and The Fairmont Chateau Whistler in the Upper Village).
Hours
Thursday - Sunday: 10am - 5pm
The first hour each day (10am - 11am) is reserved for vulnerable people to visit the Squamish Lil'wat Cultural Centre.
Thunderbird Cafe: Tuesday - Sunday from 10am - 4pm
*Due to the COVID-19 pandemic, our hourly What We Treasure tour has been temporarily paused. In its place, knowledgeable Cultural Ambassadors are stationed throughout the venue crafting and ready to answer questions from inquiring minds.
| RATES | Price |
| --- | --- |
| ADULTS | $20.00 |
| SENIORS (65+) | $17.00 |
| YOUNG ADULT (19-25) | $15.00 |
| STUDENTS (13-18) | $7.00 |
| CHILD(6-12) | $5.00 |
| FAMILY PASS** | $45.00 |
**Family Rate includes admission for two adults and two children (6 - 18 yrs), each additional child receives 15% off applicable admission.
Rates are subject to change and are subject to 5% GST and are quoted in CAD.
Admission is free for members of the Squamish Nation and Lil'wat Nation upon presentation of a valid Status Card.
For more information visit the Squamish Lil'Wat Cultural Centre website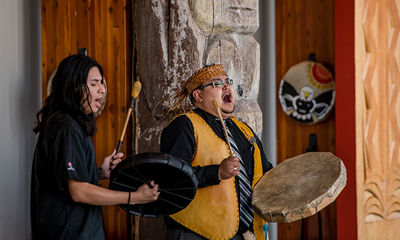 Admission Ticket
Our Squamish and Lil'Wat Ambassadors welcome you. Experience our unique native heritage in Whistler's Upper Village at the Squamish Lil'Wat Cultural Centre (SLCC). Our Class A museum space and galleries feature our ancient and modern cultures through a wide variety of interactive, video and exploratory exhibits, including a spectacular 15 minute film in our state of the art theatre.
*Tours depart every hour on the hour.
Starting at
$20 CAD
$16 USD
WHAT YOU CAN DO AT THE CENTRE
The SLCC partners with community groups and organizations to host events in our inspiring spaces; learn more at slcc.ca/slcc-events/ on upcoming film screenings, book readings, craft workshops, and intensive courses.
Tour the building: Self-guided or group tours are available. Group tours are hosted by professional Squamish and Lil'wat guides, providing a cultural context for the history, arts, and culture on display at the Centre.
View a multimedia film: A 12-minute film runs every 20 minutes in the 80-seat theatre.
Witness artists working: Artist-in-residence programs feature Salish weaving, heritage canoe carving, and cedar basket weaving.
Explore nature: The Cultural Forest Walk is a nature loop alive with indigenous plants.
Eat at the Thunderbird Cafe: Taste indigenous food. Take your taste buds on a journey of discovery - savor the flavor of the Nations.
Visit the Giftshop: Purchase cedar baskets, wool weavings, jewelry, carved masks - created by Squamish, Lil'wat, and other First Nations artists. The gift shop and cafe can be accessed without paying the admission fee to the Centre - making it the perfect place in Whistler to pick up a memorable gift.
NEW Gift Store launches online shop.slcc.ca has now launched featuring a variety of works from a mix of local and regional indigenous artists available for viewing and purchase online. The site provides a wealth of information about First Nations art and culture including animal symbolism, local First Nations stories and legends, artist biographies, product care information and updates on and articles relating to the local First Nations arts and culture scene.
Need help booking?
We guarantee the lowest prices. Our team of Local Experts can help you plan the perfect Whistler vacation.
---