Experience High-FLying Adventure
ZIPTREK ECOTOURS
Please Note:
Due to COVID-19 third party operated tours and activities may be limited or subject to additional safety protocols.
PLEASE CALL 1-888-403-4727 FOR FULL DETAILS.
Tours for thrill-seekers of all ages
Experience a high flying adventure with Ziptrek's network of ziplines and suspension bridges. Whether it's walking through the tree tops, or soaring across a network of ziplines above the Fitzsimmons creek. Ziptrek offers an entertaining combination of high-wire adventure and ecological exploration on a choice of 6 guided zipline tours or our magnificent tree top adventures.
5 ZIPLINES, 4 TREETOP BRIDGES | 2.5 - 3 Hours
Eagle Tour
The Eagle tour also includes 5 ziplines and you end your adventure by zipping all the way back to Whistler Village. A 2400' awe-inspiring zipline makes this tour perfect for those who have already experienced the Bear tour or are seeking even more heart-pounding adrenaline!
Starting at
$170 CAD
$136 USD
1 MONSTER ZIPLINE, STELLAR VIEWS | 1.5 HOURS
THE SASQUATCH® Tour
This is the ultimate single Zipline experience. Spanning a mind-blowing distance of 2kms, you will experience spectacular views and over 7,000 feet of pure eco-exhilaration! The Sasquatch™ launches you from high up on Blackcomb Mountain and lands mid-mountain on Whistler. Let's cut to the chase. You want to say "I've done The Sasquatch™!" A zipline adventure you simply won't forget. *Tours run daily for the Summer season only*
Starting at
$130 CAD
$104 USD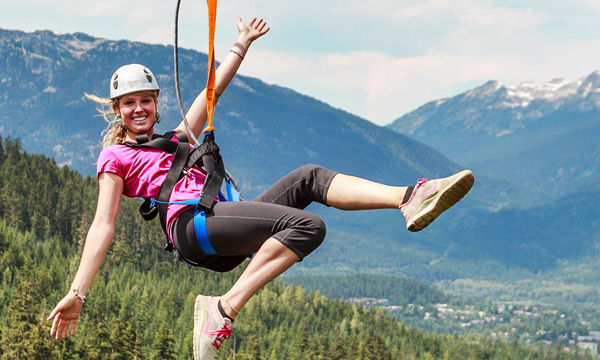 5 ZIPLINES, 4 TREETOP BRIDGES | 2.5 - 3 HOURS
Bear Tour
The Bear tour has 4 incredible ziplines varying in length from 200 feet to over 1000 feet long. The Bear tour is perfect for families, groups and those who have never ziplined before. Enjoy our freestyle line which gives you the freedom to hang upside down!
Starting at
$130 CAD
$104 USD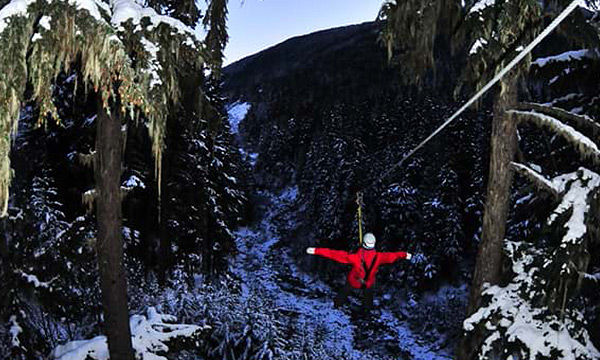 Not available for summer 2021
Twilight TOUR
6 ZIPLINES, 8 TREETOP BRIDGES | 3 HOURS
With only a head lamp and the soft glow of twinkling lights in the distance, let your imagination run wild as you soar through the night on this unique Whistler adventure. Experience the old growth forest under the stars!
Starting at
$119 CAD
$96 USD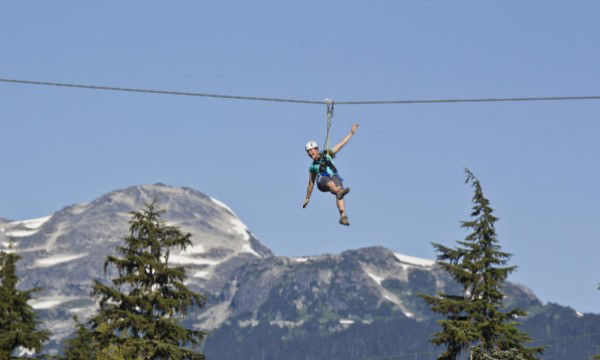 Not available for summer 2021
Falcon Tour
3 ZIPLINES, 4 TREETOP BRIDGES | 1.5 - 2 Hours
Soar like a falcon over the Fitzsimmons Valley between Whistler and Blackcomb Mountains. This tour features 3 different ziplines, including a 2400 ft zipline with a 30-storey descent, perfect for anyone who wants a heart-pounding adventure! The first zipline launches from Olympic Station on Whistler mountain at an elevation of 1,000 meters.
Experience spectacular panoramic views of Whistler & Blackcomb Mountains as you cross treetop suspension bridges and sky high viewing platforms that connect the ziplines in the old-growth rainforest. With gondola access to the first zipline, this tour starts and ends right in the heart of Whistler Village.
Starting at
$129 CAD
$104 USD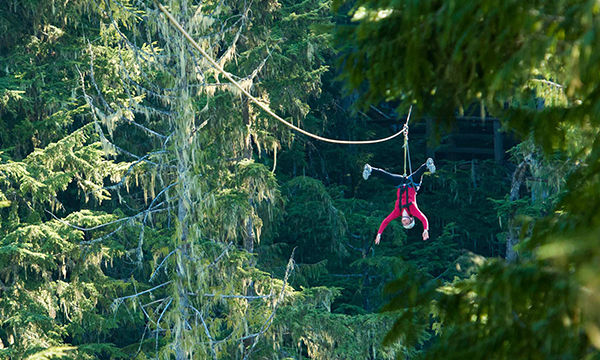 Not available for summer 2021
Mammoth TOUR
10 ZIPLINES, 8 TREETOP BRIDGES | 4.5 HOURS
For those who are never satisfied with the standard offerings, or who have an enlarged appetite for adrenaline and exhilaration. Ziptrek now offers a 10-Line ultra adventure! Combining the best of both worlds, this 10 line extravaganza is combination of both the Bear and Eagle Tour in succession. There are delicious on-course refreshments mid tour to allow guests to have a small break, take in the whole experience, and re-charge for the 2nd leg of the adventure.
Starting at
$219 CAD
$176 USD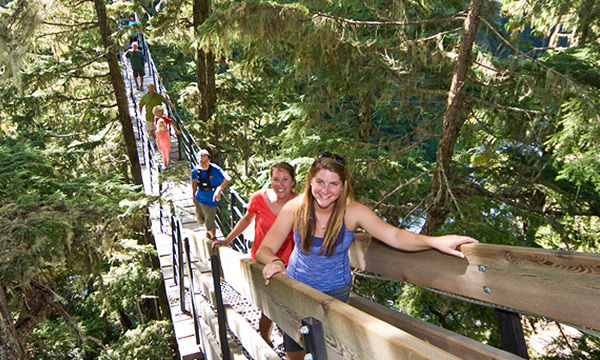 Not available for summer 2021
TREETREK TOUR
9 TREETOP BRIDGES | 1.5 - 2 HOURS
Discover secrets of the ancient rainforest from your bird's eye view in the treetops of magnificent cedars, hemlocks and firs that are the setting for your guided, interpretive TreeTrek Canopy Walk adventure. TreeTrek guests enjoy an even stronger focus on ecology and sustainability material in the same stunning and inspiring locale. For some, the gentle sway of the suspension bridges offers the same exhilaration as riding a zipline does for others!
Starting at
$59 CAD
$48 USD
Need help booking?
We guarantee the lowest prices. Our team of Local Experts can help you plan the perfect Whistler vacation.
---
ATV Tours
Climb high to experience some of the most beautiful and unique views on a thrilling ATV ride.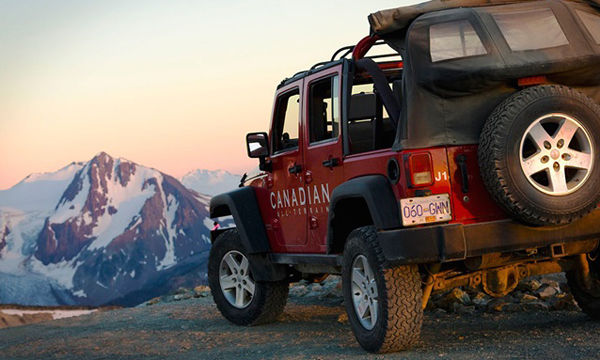 4 x 4 TOURS
Take a ride through beautiful Whistler going over bumps and bridges as you reach the best viewing areas.
More Info
4 x 4 TOURS , opens in a new window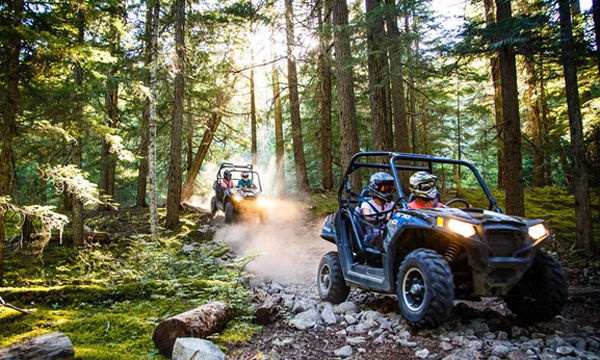 UTV TOURS
These off-roading buggies will take you up the mountains, over rocks and hills through the back-country.