Bike Park 101 is an intro clinic tailored for first-time downhill mountain bike park riders looking to get a taste of the park. If you're comfortable riding a bike on pavement, we'll have you loving our easy cruising trails and learning areas.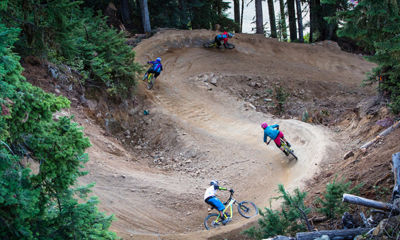 DAILY GROUP LESSONS
Do you have mountain bike experience in downhill or cross country trails? If yes, then Daily Group Lessons will help you get started in the Whistler Mountain Bike Park. These clinics are for riders who are developing a taste for freeriding. Patient, professional coaches will introduce participants to braking skills, cornering, and riding graduated drops and jumps.
The ultimate day of learning can be achieved with a private lesson. Whether it's with a group of your best friends, or you want to tackle the world of mountain biking one on one, your private coach can tailor a program specifically to meet your learning needs, personalizing your progression on your bike to maximize your skill development.
Do you love our GT Women's Nights? Our GT Women's Camp could be for you. In this camp you get a full day of adventure and progression in the Whistler Mountain Bike Park. The longer format gives you a chance to dive deeper into your skill development, and adventure further into the park. From beginners working on fundamentals, to regular riders looking to take their park riding to the next level, this camp has groups for all levels.
Women's Nights bring together the female riding community with perfect balance of learning and socializing. Join us in our pressure-free environment to progress at your own pace, among fun and supportive peers. Plus, every lesson wraps up with an après session with tons of give-aways.
Men's nights are all-male drop-in nights that are perfect if you want to train for Phat Wednesdays, or if you're new to the sport and want to find some buddies to ride with. Whether you're looking to tackle the techy trails, or improve your flow on A-line, our world-renowned freeride coaches are at your disposal each week. Our coaches not only provide you technique tips to brush up, they can also take you around to the sweetest spots so you can ditch the trail map.
Whether you are an intermediate wanting to learn to jump or master technical trails or the advanced rider wanting to refine your skills and progress further, our guides can show you how it's done. Over two fun days of coaching and guiding you will improve and take your game to the next level. All camps include optional bike set up tech session, access to the Top of the World, Whistler Blackcomb's best pro coaches, oh and of course après at the GLC on Saturday night.
Embark on a leisurely cycle along Whistler's Valley Trail with one of our knowledgeable guides. Take in BC's striking mountain landscape while you meander through lush forests, and visit the many pristine lakes dotted throughout the valley. Don't forget your camera! Our guides know all the best lakeside locations to take in the stunning Whistler landscape.
Spend the day exploring all that cross-country biking in Whistler has to offer. With over 350km of trails to choose from our experienced guides will take the guesswork out of your day. They will share their local knowledge, as well as tips and tricks to improve your riding. From complete beginners, to expert riders, we know the perfect trail for you.
As more bike parks pop up all over the planet, more bike camps are also being developed. At Summer Gravity Camps we have been in the business for 15 years and we spend all year getting ready to be able to offer you the most incredible camp experience possible.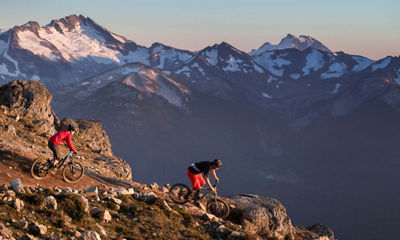 BACKCOUNTRY BIKE TOURS
An epic option for advanced riders ONLY. One of the Bike Park's most senior guides will test the skill level of riders before this full day 5,000 ft alpine descent.
These programs are designed for riders and guides who would like to develop and improve their teaching skills and tactics in a mountain bike park.