The Perfect Balance
---
Women's Nights bring together the female riding community with perfect balance of learning and socializing. Join us in our pressure-free environment to progress at your own pace, among fun and encouraging peers. Our esteemed and supportive coaches will take your skills to the next level, whether you are attempting Easy Does It for the first time or stepping up to hit Dirt Merchant, we have a group for you.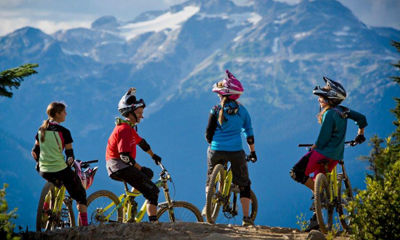 We build groups on ability, and friend requests. You will be sent a pre season survey asking about your ability and goals. We will form groups before the first day. Changes may be needed as we ride with each group to ensure compatibility
Lesson & Meeting Information
---
DATES:
Mondays: May 30, 2022 - August 29, 2022
Wednesdays: Jun 1, 2022 - August 31, 2022
TIME: 5:30pm - 7:30pm
WEEKS 1 & 2:
Meet at the back edge of the Carleton Lodge near Lulu Lemon. Look for the sign in desk and we will direct you to your coach on the first day. For those who are pre booked we will be sending out a preseason survey to help us make groups in advance and match you with the right coach and peers.
Please let us know if you will be missing the first week so we can slot you into a group.
REST OF THE SUMMER:
Meet your coach at your pre-arranged location at the base of the Park after the first 2 weeks.
Program Options
Mondays only
Wednesdays only
Groups will be set with the same coach and group of ladies based on ability.
Groups will be a max of 7 riders per coach.
Please Note: Rentals and Lift Passes are not included in the price.