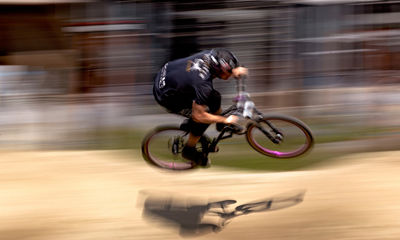 Dirt Jumping & Pump Track Skills
Groups are available for strong intermediate to expert riders who want to take their dirt jumping and pump track skills to the next level. Riders should already be riding Aline and have solid jump technique to participate in this program. Kids should bring their own dirt jump bike. Our professional coaches are experienced in freestyle skills and will help push your child's riding to the next level, following a well laid out progression and with safety as the highest priority.
For days when it is raining groups may focus their riding on the jump trails in the bike park, your coach will let you know what the plan is for each week.
DFX Dirt Sessions are only available on Fridays. Come and develop your freestyle skills once a week or add a Friday session to your other DFX program.
Program Details
---
DROP OFF AND PICK UP
Drop off 8:45am to 9:15am.
Pick up is 3:00pm to 3:30pm.
LUNCH
Lunch is not provided, please provide a packed lunch with snacks suitable to taken to the different riding locations.
EQUIPMENT REQUIREMENT
Dirt jump bike with back brake.
Arm and leg armour, gloves and a hydration pack are required every day. A well-fitting helmet.
BIKING ABILITY
Groups for advanced and expert riders only.
Minimum biking requirement: Have ridden comfortably on black jump trails.
BLACKCOMB KIDS
The lower level of the Whistler Blackcomb Admin Building, 4545 Blackcomb Way.
Located at the Base of Blackcomb Mountain in the Upper Village.
Typical Day
---
Meet from 8:45 to 9:15am, groups will leave to ride at 9:15am sharp - please be on time and ready to go. We will be riding a variety of pump tracks and dirt jumps
Lunch will be at approximately 12:00pm back at Base or on site at the pump tracks or at the CLC if we are on the mountain.
Pickup is from 3:00pm to 3:30pm each child must be signed out by a parent. If your child will be picked up by someone else please inform the coach in the morning. If you would like your child to sign out by themselves please ask your child's coach for a sign out permission form.
We will be riding in all weather, so please make sure your child is prepared with rain gear and sunscreen!