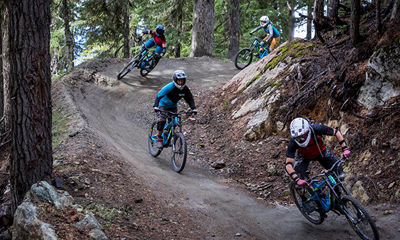 BEGIN ROLLING ON TWO WHEELS THE RIGHT WAY
If you've never mountain biked before, downhill biking can seem pretty intimidating. But it's not all about big air and high speed like you see in a lot of videos. As long as you're comfortable riding a bike, you too can give downhill mountain biking a try. But it's important to get started right so here are some helpful tips to get you rolling down on two wheels safely.
KNOW BEFORE YOU GO
Get the right downhill techniques and tips right from the start with a lesson from a bike park guide. Whether you need the fundamentals of bike riding or want to simply refine your skills, our expert coaches teach the right techniques required for riding downhill and navigating around the park. You'll gain confidence and know which trails to ride suited for your ability.
INTRO TO PARK
The perfect program for beginner riders who would like an introduction to the Whistler Mountain Bike Park.
DOWNHILL RIDING SKILLS TIPS
Bike park riding, especially at the Whistler Mountain Bike Park, requires a new set of skills riders need to have in order to ride safe and to progress your skills properly throughout the range of our trail network.
ORIENTATION CENTRE - FREE FOR EVERYONE
If you're new to bike park riding or just unsure where to begin, start at the Orientation Centre located at the top of the Fitzsimmons Express. Here, our standby guides will help you get comfortable on your bike and learn what trails are best suited for your ability level. Need a tip or two? No problem. Our guides will give you helpful instructions you can use to practice at the Fitzsimmons Skills Centre first before you start to ride.