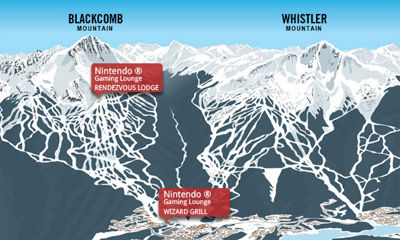 Recharge with Nintendo®
Come visit one of two Nintendo® Gaming Lounges located on-mountain at Rendezvous Lodge on Blackcomb and off-mountain at the Wizard Grill—at the base of Blackcomb.
The Nintendo® Gaming Lounges are available to guests for free* during regular mountain operation hours, summer and winter, and feature many of the newest games including Super Mario Odyssey and Mario Tennis aces for Nintendo Switch.
The lounges are a great way to recharge, take a break, and have fun with friends and family. While on-mountain, make sure to check out our Nintendo School Yard, which is a Family Certified zone in the Learning Area on Whistler Mountain. It is a great place for kids to ski and ride and learn the skills necessary for terrain park riding.