Lodging, Lift Tickets, Dining & Spa
Indulge Whistler Package
You work hard so now it's time to indulge. This package includes, 4 nights lodging, skiing, a dining tour and a day at the spa.
Consistently being blessed with reliable snow, year over year, this season at Whistler Blackcomb promises to be nothing short of spectacular. And how do you improve upon an already amazing ski vacation? You add a unique dining experience that your taste buds won't soon forget and you add a trip to the spa to invigorate and cleanse your body and mind.
The Finer Things Tour features four delicious courses at four award-winning Whistler restaurants. Included in a visit to an impressive 15,000-bottle wine cellar where guests learn to saber champagne. Treat yourself to Whistler's best find dining. Immerse yourself in the Scandinavian baths and hydrotherapy. In addition to cleansing the body, the stimulate blood circulation and the release of endorphin's. All of the senses are awakened; muscles are soothed; a general sensation of well-being washes over you.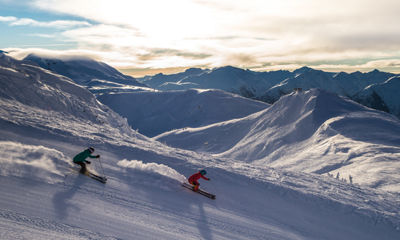 PACKAGE DETAILS
4 nights lodging in a 4 star hotel located in Whistler Village
3 days skiing at Whistler Blackcomb, the number #1 ranked ski resort in North America
1 Scandinave Bath Experience
1 Finer Things Dining Tour
Package valid up to April 21, 2018
CALL

1-888-403-4727

TO BOOK.
PACKAGE PRICING
DATES
STARTING FROM PRICE


per person

SAVINGS
January 8 - 31, 2018
$1,392
$1,114 USD
up to 12% off
February 1 - 24, 2018
$1,407
$1,126 USD
up to 12% off
February 25 - April 1, 2018
$1,401
$1,121 USD
up to 12% off
April 2 - 15, 2018
$1,071
$857 USD
up to 9% off
TERMS & CONDITIONS:
*Starting from package rate is an average rate per person per night. Package is based on 2 adults sharing a room from January 8 - April 22, 2018 .Package includes 4 nights accommodation and a 2 Day Lift Ticket, Scandinave Baths Experience and Whistler Tasting Tours Finer Things Tour per person. Rates are exclusive of taxes, fees, and are subject to availability at the time of booking and may change without notice. Minimum night stays, blackout dates weekend rates and other restrictions may apply. Additional packages available, please inquire for details. Pricing is in Canadian Dollars. USD funds are based on a 1.25 exchange rate.
Your Experience
WHAT TO EXPECT
SCANDINAVE SPA
Immerse yourself to emerge again feeling calm yet invigorated by the experience of the Scandinavian baths. Situated just north of Whistler Village, engulfed in a spruce and cedar forest on the edge of Lost Lake and Spruce Grove parks, this unique spa overlooks incredible mountain vistas and valleys. Invigorate and cleanse your body and mind in the hot baths and refreshing waterfalls and breathe in the invigorating country air.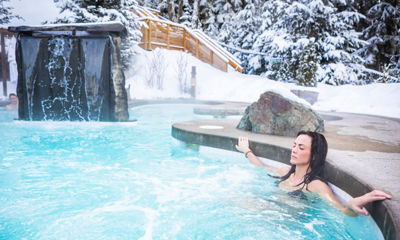 BODY WARMING
The first stage includes heating the body up which dilates the blood vessels on the surface of the skin, reduces blood pressure and increases blood flow to the skin and muscles. The increase in body temperature causes considerable perspiration, which helps cleanse the skin and release the body's negative energy. Including chemicals absorbed from the air, water or food, as well as residual toxins from certain metabolic processes.
Eucalyptus steam bath
Finnish sauna
Hot baths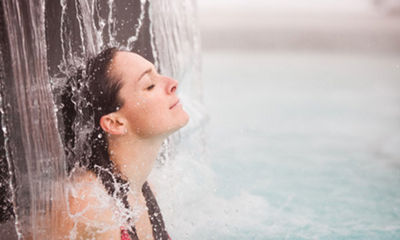 REFRESHING RINSE STATIONS
The second stage includes closing the pores of the skin with a brief, but highly beneficial cool rinse.
Nordic waterfalls
Cold showers
Cold baths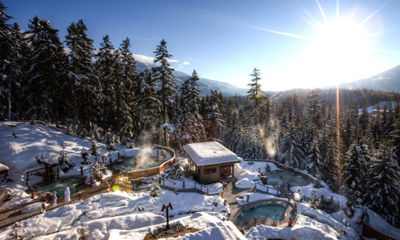 RELAXATION AREAS
The final stage is designed to allow the cardiovascular system to regulate itself. After spending time in hot and cold environments, it is recommended to rest the body to help stabilize blood flow and hear rate. This is a time for body and mind rest and relaxation.
Solarium's
Hammocks
Terraces
Outdoor fireplace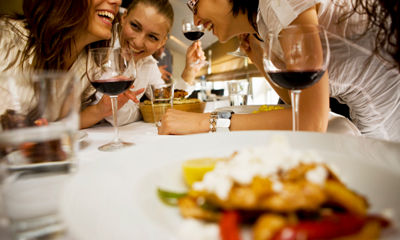 WHAT TO EXPECT
WHISTLER TASTING TOURS
The Finer Things Tour features four delicious courses at four award-winning Whistler restaurants. Included in a visit to an impressive 15,000-bottle wine cellar where guests learn to saber champagne. Treat yourself to Whistler's best fine dining.
Meet at the FireRock Lounge in the Westin Hotel
Bearfoot Bistro: Amuse-bouche plate from Melissa Craig, Canada's best chef in 2008, with wine cellar tour and champagne sabering lesson
Hy's Steakhouse: Cajun crusted blackened ahi tuna with blind wine tasting seminar
Quattro: Veal or wild salmon main course sided with restaurant signature pasta
Rogers Chocolate's: Ice-wine Truffle
FireRock Lounge, Mix Lounge or Flipside Lounge: Chef's choice of seasonal dessert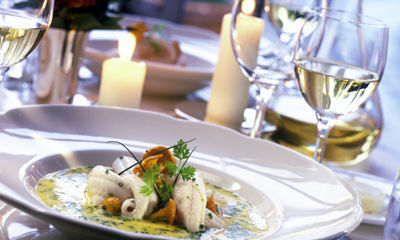 WINE PAIRINGS (CAN BE ADDED UPON TOUR ARRIVAL FOR AN ADDITIONAL CHARGE)
We first serve a 3oz glass of sparkling wine after one of the guests chops open the bottle with a sword at the first restaurant. The next two restaurants serve a 3ox glass of your choice between a red or white wine and we finish with a 1oz glass of BC's famous ice-wine a the last restaurant.
Winter Tours Depart: 4:10pm Daily (Dec-Mar). The main course is served around 6:00pm and the tour will finish before 8:00pm.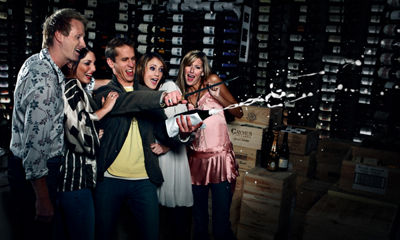 DRESS CODE (SMART RESORT CASUAL)
The most important thing is to dress weather appropriate to be outside. All the venues are in the village and never more than 5 minutes apart, but we definitely recommend wearing comfortable footwear.
Need help booking?
We guarantee the lowest prices. Our team of Local Experts can help you plan the perfect Whistler vacation.
---