LGBTQIA2S+ FRIENDLY WHISTLER
FROM ADVENTURE TO ROMANCE AND RELAXATION
WHISTLER BLACKCOMB AND YOU
---
For people of all nationalities, ethnicities, gender identities and sexual orientations, Whistler Blackcomb is a dream destination. No matter which season you choose to visit, you'll find a wide selection of LGBTQIA2S+friendly accommodations and an endless array of amazing, year-round activities (including the legendary annual Gay & Lesbian Ski & Snowboard Festival that's been a must-attend event for over 25 years).
In our world-renowned mountain village, great care is taken to ensure safe and welcoming social spaces for all people, with bars and vibrant nightlife that cater to everyone. Whistler takes great pride in our zero tolerance for discrimination and anti-social behaviour, leaving you free to be yourself and revel in your self-expression. With a diverse, cosmopolitan vibe that's the envy of resorts around the world, Whistler Blackcomb is certain to become your favourite year-round destination.
Previous tab
Previous tab
Preferred Lodging Partners
Whistler is proud to be considered by many as the "the largest gay-friendly mountain resort in North America" where diversity is celebrated as a way of life. So it comes as no surprise that you won't have any trouble finding excellent LGBTQIA2S+friendly accommodations.
Here are some great choices that are also TAG Approved*:
* TAG (Travel Alternatives Group) is an initiative of Community Marketing in San Francisco, approving hotels based on recognized gay-friendly standards and criteria. TAG Approved® properties enforce non-discriminatory policies including sexual orientation and treat heterosexual and domestic partners equally in personnel policies. They provide diversity and sensitivity training for employees and employ staff that reflect the diversity of the community, including gay and lesbian employees in all levels of employment. As well, they empower guests and employees to be "watchdogs" of its gay and lesbian business practices.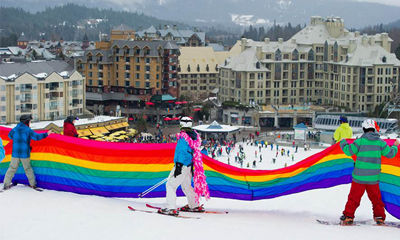 Whistler Pride & Ski Festival
For more than a quarter century, Whistler has been proud to host the annual Whistler Pride and Ski Festival. One of the biggest and best gay and lesbian ski weeks in North America, the colourful & vibrant pride week features a packed schedule of skiing, snowboarding, parties, arts and culture and social events.
2021 Event Update: After careful consideration of the global COVID situation, it was decided that Whistler Pride and Ski Festival would not go ahead in 2021. But mark the dates on your calendar for next year's fabulous event - January 23-30, 2022. Check back later in the year for information on planned events and ticket availability. See you in '22!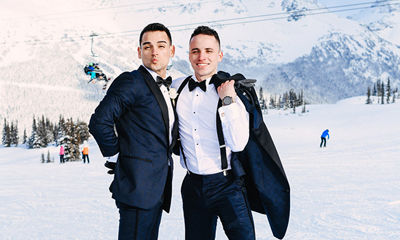 whistler blackcomb
Mountain Weddings
Since the 2003 legalization of same-sex marriage in British Columbia, the welcome sign has been out for people of all sexual orientations and gender identities to exchange vows and begin their lives together in an open environment in one of the most beautiful places on earth. With its beauty, tranquillity and variety of wedding venues, Whistler provides the perfect settings to say "I do".
Our wedding experts can assist with all aspects of your special day, including pre & post wedding events, ceremonies, receptions, rehearsals, bachelorette/ bachelor parties, and guest accommodations.
You're cordially invited to the spectacular Coast Mountains of British Columbia for a wedding day that will live forever in the minds and memories of everyone with whom you share your life's most treasured moments.
Need help booking?
We guarantee the lowest prices. Our team of Local Experts can help you plan the perfect Whistler vacation.
---