Shopping
If you're looking for the right gear, apparel or accessories, Whistler Blackcomb has it.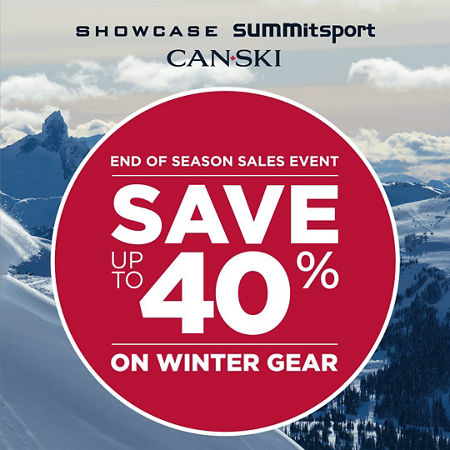 March 10 - April 2
End of Season Sales Event
Shop the best deals of the season! Save up to 40% on winter gear, apparel, accessories and more from your favorite brands.

Find Your Store:

CAN-SKI Blackcomb, Blackcomb Base, 604-938-7744

CAN-SKI Village, Crystal Lodge, 604-938-7755

CAN-SKI Creekside, Creekside Base, 604-905-2160

CAN-SKI Westin, Westin Resort & Spa, 604-905-2262

Showcase, 4340 Sundial Crescent, Whistler Village, 604-905-2022

Summit Sport Hilton, 118/214 - 4293 Mountain Square, 604-932-6225
Shopping in Whistler
---
Whistler Blackcomb's ski, snowboard, and outdoor lifestyle shops offer a special type of mountain expertise. From the knowledgeable and experienced staff who live and breathe the mountains, to the range of high performance and specialty items - the focus in our shops is to provide you with a shopping experience that you won't find in the urban jungle.
Check out our selection of great shops and brands
It's not just about shopping. Our shops offer a multitude of services to meet your needs on the mountain.
In addition, you can find the accessories you need to get on the mountain at the majority of our rental locations.
Whistler Blackcomb is a world class shopping destination. Looking to see where you can shop close to where you're staying or playing? Check out our directory of shopping options in each of Whistler's distinct areas.
Download the PDF Map of Whistler Village, Upper Village and Creekside including our Shopping and Rental locations.
Previous tab
Previous tab
All Shops
| Name | Address | Phone Number | Products Available |
| --- | --- | --- | --- |
| Can-Ski Blackcomb | 4573 Chateau Blvd | 604-938-7744 | Gear, Apparel & Accessories |
| Can-Ski Creekside | 220-2051 Lake Placid Road | 604-905-2160 | Gear, Apparel & Accessories |
| Can-Ski Performance | 4340 Lorimer Road | 605-938-7137 | Gear, Apparel & Accessories |
| Can-Ski Village | 108-4154 Village Green | 604-938-7755 | Gear, Apparel & Accessories |
| Fire & Ice | 214-4293 Mountain Square | 604-938-7103 | Apparel & Accessories |
| Can-Ski Westin | 4090 Whistler Way | 604-905-2262 | Gear, Apparel & Accessories |
| EB HighPro Rentals | Unit 101, 4820 Mountain Square | 904-935-5579 | Gear, Apparel & Accessories |
| Showcase Snowboards | 4340 Sundial Crescent | 604-905-2022 | Gear, Apparel & Accessories |
| Summit Sport - Hilton | 118/214 - 4293 Mountain Square | 604-932-6225 | Gear, Apparel & Accessories |
| Garbanzo Bike and Bean Retail (Summer) | Unit 101,4280 Mountain Square | 604-905-2076 | Gear, Apparel & Accessories (Bike) |
| Troy Lee Designs (Summer) | 214-4293 Mountain Square | 604-938-7103 | Apparel & Accessories (Bike) |
| The North Face | 32-4314 Main Street | 604-938-7432 | Apparel & Accessories |
| Patagonia | 119-4350 Lorimer Road | 604-932-2526 | Apparel & Accessories |
| Bogner | 101-4599 Chateau Blvd | 604-938-7733 | Apparel & Accessories |
| Columbia | 103-4230 Gateway Drive | 604-938-7803 | Apparel & Accessories |
| Oakley | Unit 103, 4280 Mountain Square | 604-905-2212 | Apparel & Accessories |
| Salomon | 4320 Sundial Crescent | 604-905-2295 | Apparel & Accessories |
| Whistler Blackcomb Outlet Store | 101-40147 Glenalder Place | 604-898-3115 | Outlet / Clearance |
| WB Rentals, Daylodge | 4553 Blackcomb Way | 604-939-7749 | Accessories & Logo |
| Fairmont Rentals | 4599 Chateau Blvd | 604-905-6930 | Accessories & Logo |
| Four Seasons Mountain Products | 4591 Blackcomb Way | 604-938-7740 | Accessories & Logo |
| Roundhouse Traders | in Alpine Lodge | 604-905-2340 | Accessories & Logo |
| Mountain Top Shop | On Mountain | 604-938-7406 | Accessories & Logo |
| Whistler Heli Ski Rental | | 604-905-3337 | Accessories & Logo |
| G1 Rentals | 4165 Springs Lane | 604-905-2252 | Accessories & Logo |
| Essentially Blackcomb HiPro Rentals (Winter) | Unit 101,4280 Mountain Square | 604-935-5579 | Accessories & Logo |
| Whistler Blackcomb Outlet Store | 203-4204 Village Square | 604-905-3347 | Outlet / Clearance |
| WB Rentals, Blackcomb Lodge | 4220 Gateway | 604-905-3348 | Gear, Apparel, & Accessories |
| WB Rentals, Delta Suites | 4308 Main Street | 604-905-3341 | Gear, Apparel, & Accessories |
| WB Rentals, Clocktower | 4262 Village Stroll | 604-905-3342 | Gear, Apparel, & Accessories |
| WB Rentals, Glacier Lodge | 4573 Chateau Blvd | 604-905-3345 | Gear, Apparel, & Accessories |
Skis & Snowboards
| Name | Address | Phone Number | Sport |
| --- | --- | --- | --- |
| Can-Ski Blackcomb | 4573 Chateau Blvd | 604-938-7744 | Ski |
| Can-Ski Creekside | 220-2051 Lake Placid Road | 604-905-2160 | Ski |
| Can-Ski Performance | 4340 Lorimer Road | 604-938-7137 | Ski |
| Can-Ski Village | 108-4154 Village Green | 604-938-7755 | Ski |
| Showcase Snowboards | 4340 Sundial Crescent | 604-905-2022 | Snowboard |
| Summit Sport - Hilton | 118/214-4293 Mountain Square | 604-932-6225 | Snowboard / Ski |
| Salomon | 4320 Sundial Crescent | 604-905-2295 | Ski |
| Whistler Blackcomb Outlet Store | 101-40147 Glenalder Place | 604-898-3115 | Snowboard / Ski |
Bikes
| Name | Address | Phone Number | Product Available |
| --- | --- | --- | --- |
| Garbanzo Bike and Bean Retail (Summer) | Unit 101, 4280 Mountain Square | 604-905-2076 | Retail and repair |
| Summit Sport - Hilton | 118/214-4293 Mountain Square | 604-932-6225 | Downhill bike rentals, valley bike rentals and repair |
| Troy Lee Designs (Summer) | 214-4293 Mountain Square | 604-938-7103 | Accessories |
| Oakely | Unit 103, 4280 Mountain Square | 604-905-2212 | Accessories |
| Can-Ski Creekside | 220-2051 Lake Placid Rd | 604-905-2160 | Rentals, retail |
| Can-Ski Performance | 4340 Lorimer Rd | 604-938-7137 | Retail, valley bike rental and repair |
| Whistler Blackcomb Outlet Store | 101-40147 Glenalder Place | 604-898-3115 | Accessories |
Apparel
| Name | Address | Phone Number |
| --- | --- | --- |
| Can-Ski Blackcomb | 4573 Chateau Blvd | 604-938-7744 |
| Can-Ski Creekside | 220-2051 Lake Placid Rd | 604-905-2160 |
| Can-Ski Performance | 4340 Lorimer Rd | 604-938-7137 |
| Can-Ski Village | 108-4154 Village Green | 604-938-7755 |
| Fire & Ice | 214-4293 Mountain Square | 604-938-7103 |
| Can-Ski Westin | 4090 Whistler Way | 604-905-2262 |
| Showcase Snowboards | 4340 Sundial Crescent | 604-905-2022 |
| Summit Sport - Hilton | 118/214 - 4293 Mountain Square | 604-932-6225 |
| Garbanzo Bike and Bean Retail (Summer) | Unit 101,4280 Mountain Square | 604-905-2076 |
| Troy Lee Designs (Summer) | 214-4293 Mountain Square | 604-938-7103 |
| The North Face | 32-4314 Main St | 604-938-7432 |
| Patagonia | 119-4350 Lorimer Rd | 604-932-2526 |
| Bogner | 101-4599 Chateau Blvd | 604-938-7733 |
| Columbia | 103-4230 Gateway Drive | 604-938-7803 |
| Oakley, Village | Unit 103, 4280 Mountain Square | 604-905-2212 |
| Oakley, Blackcomb | Le Chamois, 114-4557 Blackcomb Way | 604-905-3346 |
| Salomon | 4320 Sundial Crescent | 604-905-2295 |
| Whistler Blackcomb Outlet Store | 101-40147 Glenalder Pl | 604-898-3115 |
Accessories
| Name | Address | Phone Number |
| --- | --- | --- |
| Can-Ski Blackcomb | 4573 Chateau Blvd | 604-938-7744 |
| Can-Ski Creekside | 220-2051 Lake Placid Rd | 604-905-2160 |
| Can-Ski Performance | 4340 Lorimer Rd | 604-938-7137 |
| Can-Ski Village | 108-4154 Village Green | 604-938-7755 |
| Fire & Ice | 214-4293 Mountain Square | 604-938-7103 |
| Can-Ski Westin | 4090 Whistler Way | 604-905-2262 |
| Showcase Snowboards | 4340 Sundial Crescent | 604-905-2022 |
| Summit Sport - Hilton | 118/214 - 4293 Mountain Square | 604-932-6225 |
| Garbanzo Bike and Bean Retail (Summer) | Unit 101,4280 Mountain Square | 604-905-2076 |
| Troy Lee Designs (Summer) | 214-4293 Mountain Square | 604-938-7103 |
| The North Face | 32-4314 Main St | 604-938-7432 |
| Patagonia | 119-4350 Lorimer Rd | 604-932-2526 |
| Bogner | 101-4599 Chateau Blvd | 604-938-7733 |
| Columbia | 103-4230 Gateway Drive | 604-938-7803 |
| Oakley, Village | Unit 103, 4280 Mountain Square | 604-905-2212 |
| Oakley, Blackcomb | Le Chamois, 144-4557 Blackcomb Way | 604-905-3346 |
| Salomon | 4320 Sundial Crescent | 604-905-2295 |
| Whistler Blackcomb Outlet Store | 101-40147 Glenalder Pl | 604-898-3115 |
| Blackcomb Ski & Sport | 4553 Blackcomb Way | 604-938-7788 |
| Fairmont Rentals | 4899 Chateau Blvd | 604-905-6930 |
| Four Seasons Mountain Products | 4591 Blackcomb Way | 604-938-7740 |
| Roundhouse Traders | On Mountain | 604-905-2340 |
| Mountain Top Shop | On Mountain | 604-938-7406 |
| Whistler Heli-Ski Rental | On Mountain | 604-905-3337 |
| G1 Rentals | 4165 Springs Lane | 604-905-2252 |
| Essentially Blackcomb (Winter) | Unit 101, 4280 Mountain Square | 604-905-2076 |
Kids
| Name | Address | Phone Number |
| --- | --- | --- |
| Can-Ski Blackcomb | 4573 Chateau Blvd | 604-938-7744 |
| Can-Ski Creekside | 220-2051 Lake Placid Rd | 604-905-2160 |
| Can-Ski Performance | 4340 Lorimer Rd | 604-938-7137 |
| Can-Ski Village | 108-4154 Village Green | 604-938-7755 |
| Can-Ski Westin | 4090 Whistler Way | 604-905-2262 |
| Showcase Snowboards | 4340 Sundial Crescent | 604-905-2022 |
| Summit Sport - Hilton | 118/214 - 4293 Mountain Square | 604-932-6225 |
| The North Face | 32-4314 Main St | 604-938-7432 |
| Whistler Blackcomb Outlet Store | 101-40147 Glenalder Pl | 604-898-3115 |
| Blackcomb Ski & Sport | 4553 Blackcomb Way | 604-938-7788 |
| Fairmont Rentals | 4899 Chateau Blvd | 604-905-6930 |
| Four Seasons Mountain Products | 4591 Blackcomb Way | 604-938-7740 |
| Roundhouse Traders | On Mountain | 604-905-2340 |
| Mountain Top Shop | On Mountain | 604-938-7406 |
| G1 Rentals | 4165 Springs Lane | 604-905-2252 |
| Essentially Blackcomb (Winter) | Unit 101, 4280 Mountain Square | 604-905-2076 |
Logo
| Name | Address | Phone Number |
| --- | --- | --- |
| Blackcomb Ski & Sport | 4553 Blackcomb Way | 604-938-7788 |
| Fairmont Rentals | 4899 Chateau Blvd | 604-905-6930 |
| Four Seasons Mountain Products | 4591 Blackcomb Way | 604-938-7740 |
| Roundhouse Traders | On Mountain | 604-905-2340 |
| Glacier Creek Shop | On Mountain | 604-938-7417 |
| Mountain Top Shop | On Mountain | 604-938-7406 |
| Whistler Heli Ski Rental | On Mountain | 604-905-3337 |
| G1 Rentals | 4165 Springs Lane | 604-905-2252 |
| Essentially Blackcomb (Winter) | Unit 101, 4280 Mountain Square | 604-905-2076 |