SPRING & SUMMER
Schools on Dirt
The Whistler Mountain Bike Park has a number of Green and Blue runs which have been designed with the beginner in mind. Like Schools on Snow, Schools on Dirt is a development program. We have tailored this program to follow the same criteria as our winter program.
Whistler Blackcomb invites you to bring your students to discover our world renowned Mountain Bike trails through our Schools on Dirt Program. Students of all ages and ability levels will spend a day with us discovering the adventure of mountain biking, in a setting only Whistler Blackcomb can provide. Our mandate is to provide an accessible, memorable experience at Whistler Blackcomb and inspire a life-long love and passion for the sport and mountains.
The Whistler Blackcomb Bike Park
---
The Whistler Blackcomb mountain bike park is the biggest in North America with 200km of trails covering 4,800 vertical feet. We have lift serviced trails for everyone, from the first time mountain biker to the expert mountain biker. Strategically located throughout this network of trails are three skill centres, each designed for a different ability level.
The green skills centre is built close to the ground for riders just learning to clear obstacles and ride planks.
The blue zone increases the difficulty by raising, narrowing and tightening all of the constructed elements.
The double black skills centre is for expert riders only including a dazzling display of North Shore-style obstacles.
Also located within the bike park is a biker-cross track where advanced mountain bikers or racers can perfect their racing techniques. After each run, your students will use the Fitzsimmons Chair at the base of Whistler Mountain or Garbanzo Chair at top of Fitzsimmons Chair to get back to their favourite trails. Specialized racks on a separate chair directly in front of the riders will securely transport their bikes to the top of the park.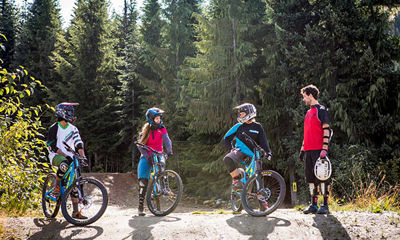 Schools on Dirt Program
The Schools on Dirt program follows the same principles as our successful Schools On Snow program and is aimed at elementary and secondary school aged students of all ability levels, who live in Vancouver and the surrounding region. Our experienced certified mountain bike guides can take everyone from the first time mountain biker to the experienced racer and guide them around North America's largest mountain bike park in a safe and fun environment. Unlike our Schools On Snow program, you and any other trip organizer can participate in the bike program alongside the students!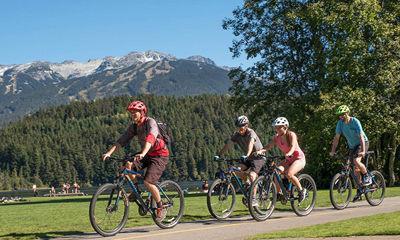 Guided Valley Bike Tour
Don't feel comfortable riding in the Whistler Mountain Bike Park? No problem. We offer students the opportunity to enjoy a 2 hour guided bike tour around the scenic Whistler valley. Bike rentals and helmets included.
Schools on Dirt Details
Guides
All of our Schools on Dirt packages include guides from 10am-2pm who will tailor the day's content according to the group's abilities and preferences. All riders will be grouped according to ability and speed with a ratio of 7:1 riders to coach.
Bike Rentals
For first time mountain bikers or for those who wish to try a dual suspension mountain bike, we have a large fleet of the top downhill bikes that have been customized to our specifications. These bikes are perfect for all kinds of terrain and for all ability levels, from the first time mountain biker to the experienced biker .Our fleet of downhill bikes are maintained and serviced daily.
Schools On Dirt Packages include downhill rentals and protective gear from 10am-2pm.
What to Bring
Dress in layers as the weather can change quickly. Bring a small, comfortable day-pack which will be safe with the group in the morning.
Recommended clothing: cycling shorts with chamois, light top, long tights, long sleeve top, wind jacket, short or (even better, long-fingered cycling gloves). Throw in a pair of warm gloves for spring camps.
Water & carrier, sunscreen, bug spray.
Lunch on the Mountain
If you don't want to worry about bringing your own lunch or losing your lunch money, have lunch on the mountain with a Whistler Blackcomb lunch voucher. The voucher is valued at $20.75 and accepted at select Whistler Blackcomb food and beverage locations.
Organizer Incentive
For the trip organizer, we will provide one complimentary Lift ticket for every trip you bring. You'll also receive great rates on our Full Suspension Mountain Bikes, and because we want you to develop your skills along with your students, we encourage you to take part in the class at no additional charge.
Cancellation Policy & Safety
Whistler Blackcomb reserves the right to change, alter or substitute any portion of our Mountain Bike Programs itineraries due to trail conditions, rider's ability or weather.

Morning Safety Talks - Whistler Blackcomb Bike Coaches will meet your group in the morning upon arrival to give a conditions-specific safety message. Please keep the students together until this presentation is completed.

Protective Wear - Helmets are included with every bike rental, as is arm/leg Armour and cycling gloves. This gear is mandatory for the students.

Whistler Medical Clinic - The bike guides will keep in touch via radio and the trip organizer will be informed by his guide if a student happens to be injured during the day. Our patrollers are first aid professionals. In some cases, one of our patrollers may be your guide for the day.

If a student incurs an injury requiring a visit to the clinic, the student will be transported there by Whistler Blackcomb staff. The Whistler Clinic is located at 201-4380 Lorimer Road. Tel: 604.932.3977. Please drive a separate vehicle to Whistler on the day of your trip in the case you need to stay behind with an injured student.
Want to Know More?
---
Contact Information:
Group Sales groups@vailresorts.com