Door to door service, morning, noon and night
---
Whistler Shuttle service from Vancouver International Airport (YVR) is scheduled around your flight arrival. Included in our industry leading service is a scenic tour of the beautiful Sea to Sky Corridor and their drivers are Whistler residents and are happy to share the beauty and history of their home as they transport you to your destination.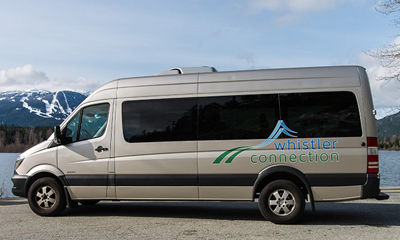 Whistler Shuttle
You will be whisked off to Whistler in a late model highway coach, mini bus, or van, depending on the time of day and current volume of arriving and departing guests. Whistler Shuttle schedules your trip entirely around your flight arrival.
Starting at
$89 CAD
$66 USD
Previous tab
Previous tab
Bus Stop Information
Extensive Drop-Off Locations
Whistler shuttle offer a wide selection of hotel and condo drop-off locations in the base price of the Whistler Shuttle. Not staying at a major Whistler hotel or condo complex? Don't worry, they can drop you at any address in Whistler for an additional charge.
Condo Key Pickup and Check-In Option
Many Whistler rental accommodations require off-site check-in and key pickup. The Whistler Shuttle offers a key pick-up option to make your arrival at Whistler quick and easy. Whistler Shuttle will take you to your check-in point, then drop you at your final destination (Additional charges apply).
No More Flight delay worries!
With Whistler Shuttle's flexible departures, it's almost impossible to miss the shuttle. If your flight is delayed or you've missed a transfer, that's not a problem, they monitor flights throughout the day and constantly adjust our schedule to ensure that you are on the road as soon as possible. The shuttle meets flights arriving as late as 9:00pm in winter and 8:00pm in spring to fall. If your flight arrives after these times, we'll transfer you to the first shuttle the next morning.
The Best Hours of Operation
The Whistler Shuttle gives you the most options when it comes to flight arrival times. Our extended hours accommodate early morning and late evening flights!
For Summer, we accept bookings for flight arrivals between 10am and 8pm.
For Off-Peak Winter 22/23 (November 23 – December 15 2022) we accept bookings for flight arrivals between 9am and 10pm.
For Peak Winter 22/23 (December 16 2022 – April 9, 2023) we accept bookings for flight arrivals between 8am and 10pm.
Need help booking?
We guarantee the lowest prices. Our team of Local Experts can help you plan the perfect Whistler vacation.
---