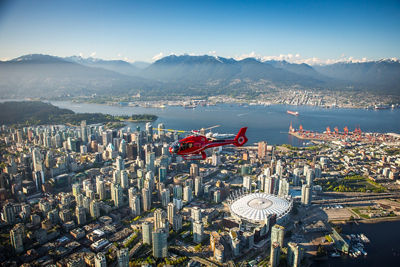 We offer competitive rates, highly experienced pilots, friendly and professional service, and a drastically reduced travel time to and from Whistler.
RATES INCLUDE
Van transportation to/from the Whistler Municipal Heliport and Whistler Resort.
Landing fee for Millionair at Vancouver Airport.
$70 landing fee for Vancouver Harbour arrivals/departures.
Flight time of approximately 40 minutes.
NOT INCLUDED
Transportation to/from Vancouver International Airport Millionair and the main terminal. (Approximately 10 minutes by taxi or limousine.)
There is a parking fee of $100 after 1 hour holding at the Harbour landing pad.
LUGGAGE RESTRICTIONS
Due to limited cargo space, passengers are permitted to carry one (1) small piece of surface luggage per person. Should flight seats not be filled, additional luggage space may be available. Please note that helicopters can have an external basket in which to carry equipment on request (subject to availability).
NOTES
Transfer pricing is for helicopter transportation one way, for a maximum of 5 passengers.
Landings/departures are at Vancouver South Terminal (Millionair) unless otherwise specified.
Rates are in CAD Dollars and exclusive of taxes and fees.
Rates are subject to availability at time of booking and may change without notice.
Some restrictions may apply.
All flights are subject to weather, aircraft availability and civil emergencies.
Please contact Blackcomb Helicopters directly to book transfers.

1-800-330-HELI (4354)

or by email at info@blackcombhelicopters.com.