Never Ever Days presented by CIBC
---
You've got an ambition to ski. It's time to make it real. At Never Ever Days, it is CIBC's goal to make your first skiing experience one to remember. Experience the thrill of the slopes with a full day Ultimate Base Beginner lesson package including a learning area lift ticket and rentals, for only $25! Let's reach new peaks together.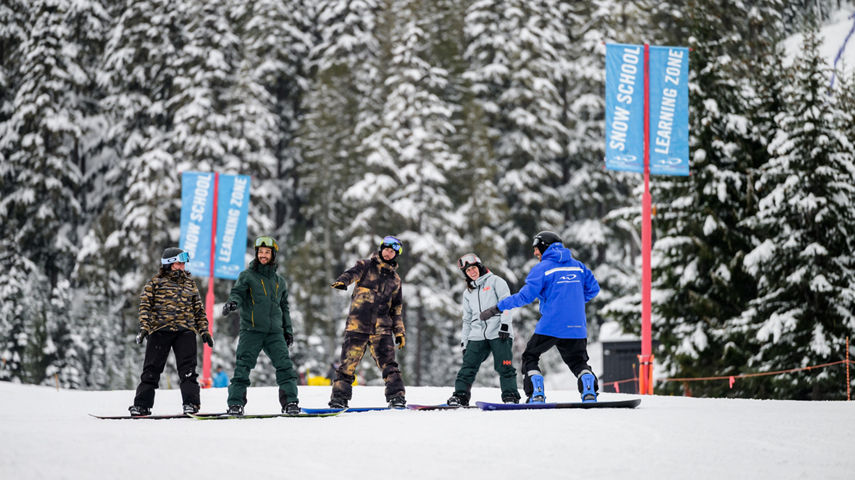 First Time Experience
There are few sensations that can match the joys of alpine skiing or snowboarding. Gliding down a snow-covered mountain with the wind in your face gives a feeling of freedom and exhilaration like no other. You reach the bottom of the hill energized, invigorated and with a smile so big your face hurts. Please note, this package is for Adults 19+ only.
REGISTRATION FOR NEVER EVER DAYS IS NOW OPEN
Book your Ski or Snowboard Never Ever day lessons online
SKI Saturday, Dec 9 SNOWBOARD Saturday, Dec 9

SKI Sunday, Dec 10 SNOWBOARD Sunday, Dec 10
PLEASE NOTE:
Space is limited with only 200 packages available each day. Please register for ONLY ONE day choosing either SKI or SNOWBOARD.
You will be required to enter a credit card during the booking process to purchase your
$25 package.
What do you need to bring?
---
Credit Card
A credit card imprint is required for security purposes on all rental transactions. Guests will be charged in the event of missing or stolen equipment.
Photo ID
We require government issued photo ID to check-in all guests. A packed lunch, or money you will have a full day of skiing or riding, with lunch in between at the Roundhouse Lodge on Whistler Mountain.
A sense of adventure!
Want to read more? Check out our Whistler in Winter section for tips, skiing and snowboarding, village info, other activities, events, and accommodation options.
What do you need to wear?
---
Mitts or gloves
These are considered personal items, and can not be rented.
Goggles
These are considered personal items, and can not be rented.
Jacket and Pants
It's recommended you wear a waterproof jacket and pants.
Other warm layers
Such as long underwear, sport socks, neck warmers to stay nice and cozy all day long.
Please note: There will be no rental ski clothes/attire available on site.
YOUR DAY
---
Parking & Accommodation
Get info on parking and Last Minute Deals on accommodation.
Meet and greet
Meet at Garibaldi Lift Co. (GLC) in Whistler Village at 8:30am on your selected day. You'll meet your instructor and group, and will go get your rentals.
Head on up!
Once you're set up with all your gear, you'll head up to a Learning Area on Whistler Mountain with your group and instructor and will feel the wind in your hair!
Lunch Break
You'll stop into the Roundhouse Lodge for a bite to eat. Please note lunch is not included.
More skiing or riding
Your shredding skills are already improving!
End of day!
You'll say goodbye to your new found friends, or you may want to hit up one of our après bars for a couple cold ones.
What is included?
---
ULTIMATE BASE BEGINNER LESSON WITH SNOW SCHOOL
Each lesson is catered for those who have never-ever tried skiing or snowboarding, or been on snow.
Beginner Ski or Snowboard Rentals
Ski sets include skis, bindings, boots, poles, helmet, and damage waiver. Snowboard sets include snowboard, bindings and boots.
Learning Area Lift Ticket
Your Snow School instructor will have your lift ticket as you embark on your adventure with your group. Lift ticket is only valid when accompanied by your instructor.
Après
You will check in at the Garibaldi Lift Co. (GLC) to meet your instructor and group.