December 6, 2022 - April 16, 2023
Bucket List Experience Package
Your Ultimate Package
Lodging, Lift Tickets & Heli-Skiing
This is the ultimate Whistler Package. Imagine carving through untracked powder, endless terrain and breath-taking scenery. You sit at the bottom of your run looking up admiring your turns, taking in the fresh air mountain air, the sound of an approaching helicopter in the distance, this is the moment you have been dreaming of. You have thought about heli-skiing since you had your first taste of powder and the time has come for you to check heli-skiing off of your bucket list.
Don't wait, call
1-888-600-2630
and book your ultimate whistler package today!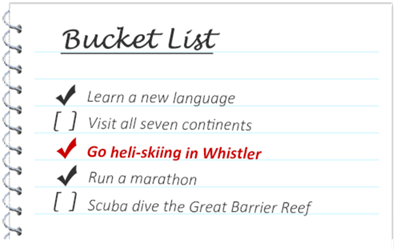 What's Included:
Pricing starting from $2,590 per person.*
5 nights lodging at a 4 star hotel in Whistler.
3 days skiing at Whistler Blackcomb.
1 day Heli Skiing 4 Run Bell 212 package (approx. 6,000 - 10,000 vertical feet).
Book early and SAVE!
Customize your package - Other dates, hotel and Heli options available.
CALL TOLL FREE

1-888-600-2630

TO BOOK YOUR HELI SKI ADVENTURE.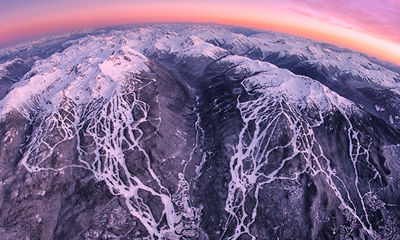 THE RESORT
Whistler Blackcomb is a place where deep mountain culture collides with a spirit of adventure, progression and international acclaim. It's a place sculpted by legendary peaks, Olympic athletes and an insatiable wonder. Two mountains converge on one lift ticket and unite at the base of Whistler Village at the end of the day—the vibrant and iconic epicenter of winter festivity. Together, it's what sets us apart as a world-class ski resort in every which way.
Previous tab
Previous tab
Morning Schedule
---
Check in at the Whistler Heli Ski Office in the Carleton Lodge at the latest by 4pm the day BEFORE your fly day. At this time we will review your booking, prepare you for the next day, and set up your rental skis/board if needed.
On the morning of your heli-ski day you will check the online flight status updated by 7:45am at the latest. It will be a green light or a red light. If it is green then the day is a go. Please arrive at the Heli Ski Office at 8:30am. If it is red it is cancelled due to weather or snow conditions and you will be telephoned between 7:45am and 8:00am. If it is a green light you will not receive a phone call.
After checking in at the store at 8:30am you will proceed to the Powder Hut. At the Powder Hut, your guide will introduce themselves and assemble your group for a heli-ski introduction.
You will leave with your guide for the Whistler Heliport which is about 10min drive north of the village. At the heliport you will receive additional instruction on helicopter safety as well as a transceiver orientation. Safety talks take about 1 hour to complete
Ski Day
---
The guides choose the best ski area for the day. They take many factors into consideration including the wind, temperature, and new snowfalls, guest safety prior to making their decision.
You will ski with your guide all day.
A mountain lunch is provided on the hill which consists of a soup, sandwich, sweet treat, tea and juice.
What to Wear
---
Please dress the same way you would for skiing on Whistler Blackcomb.
Goggles are a must.
Helmets are strongly recommended, but not required. If not wearing a helmet, please wear a warm hat. Ball caps are not recommended.
You will be supplied with a special pack that includes a shovel and probe. You may not bring your own pack unless it's an avalanche air bag and only contains a probe & shovel, as there is limited space in the stowage area.
Nothing may be left in the helicopter.
Personal music players are NOT permitted throughout the heli trip.
GOPRO cameras cannot be worn on the chest as it may interfere with the transceiver signal.
Insider Tips
---
Book your heli-skiing for your second ski day. This gives you the first day to warm up your legs and is early enough in your trip in case your heli-skiing day needs to be rebooked because of a inclement weather.
Book a second day of heli-skiing and receive $100 off your additional day.
Your heli-ski day will be a lot more fun with the right ski equipment. Our rental shop has powder skis for advanced to expert skiers. Please bring your own ski poles and ski boots, which can easily be fitted to our rental skis.
Make this a trip all the more memorable and head to the Bearfoot Bistro after an amazing day of heli-skiing. Ask your server about the Belvedere Ice Room, a -18 Celsius vodka tasting room showcasing over 55 vodkas from 12 different countries. If that's a bit too chilly for you, ask about the opportunity to saber a bottle of champagne and celebrate in a tradition dating back to the Napoleonic War.
You can completely customize this package to create your own perfect vacation, different lodging options and heli-skiing packages are available. Depending on your ability level, you can upgrade your 1 day heli-skiing from the Elite 4 Run Package to the Ultimate Excursion 6 Run Package, for the technically strong and experienced. Please inquire with your travel consultant for more details.
*Starting from is an average package rate per person per night based on 2 adults sharing a one bedroom from December 6, 2022 - April 16, 2023. Package includes 5 nights in a 4 star hotel, a 3 Day Unrestricted WB Day Pass per person, and 1 day of Heli skiing per person on the 4 RUN BELL 212 package. Taxes and fees are extra, restriction may apply (minimum night stays, weekend rates and or other restrictions). Offer is available at participating properties only and is subject to change without notice. Other packages available for dates throughout the winter season, please inquire for details. Pricing is in Canadian Dollars and USD funds based on a 1.3 exchange rate.
Need help booking?
We guarantee the lowest prices. Our team of Local Experts can help you plan the perfect Whistler vacation.
---