FIND THE PERFECT PLACE TO STAY
Nicklaus North & Pemberton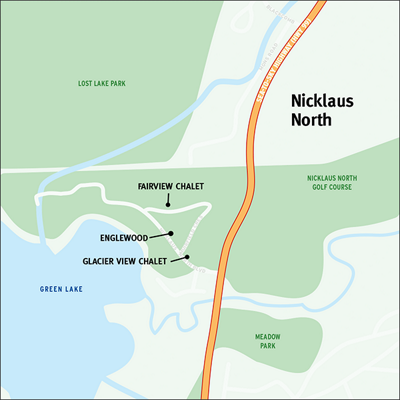 Map
Nicklaus North
Just a 2-minute drive north of the main Whistler Village, nestled between Green Lake and the River of Golden Dreams, Nicklaus North offers luxury accommodation with stunning lake vistas and glacial mountain views.
Across the street is Alpine Meadows, offering a community vibe that's ideal for families with kids of any age. It features an impressive variety of accommodation options ranging from rustic cabins to ultra-luxury chalets.
Things to Do in Nicklaus North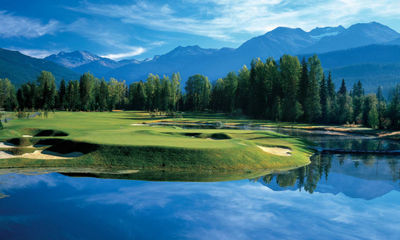 So many Summer Choices
One of the great courses in North America and winner of numerous awards since its opening in 1996, Nicklaus North Golf Course is an absolute must-play. After a day on the links (or anytime) the patio at Table Nineteen is a superb place to unwind and take in the lake and mountain vistas over lunch, dinner or just a beverage.
On the flatlands beside the aptly named River of Golden Dreams, Meadow Park Sports Centre features tennis courts, baseball diamonds, a water park, a pool and an indoor ice rink (not to mention a gym, sauna/steam room and squash courts).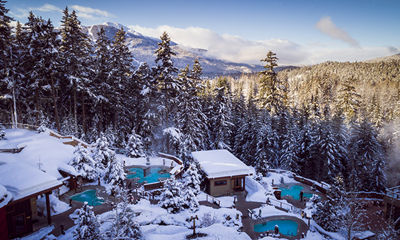 Winter Luxury
There's nothing like a long day of skiing and winter adventure capped off with a massage at the nearby Scandinave Spa to relax your sore muscles, soothe your skin, and calm your mind. Or snuggle under a cozy blanket and enjoy a unique horse-drawn sleigh ride and tour - truly a fun experience for any age. For something truly unforgettable, climb aboard a Heli-Tour and experience seeing the stunning mountain ranges from the top of the world!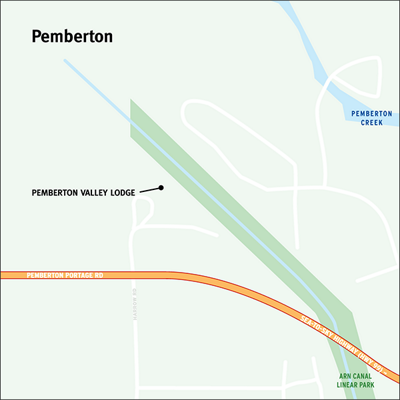 Map
Pemberton
An easy and picturesque 25-minute drive north of Whistler, Pemberton offers a variety of accommodation with something to suit every style and budget. Of particular note is the Pemberton Valley Lodge where you can choose from spacious, fully-equipped Studio, One & Two Bedroom Suites that offer private balcony or terrace and breathtaking mountain views.
Its authentic adventure culture, countless recreation options, a variety of dining choices, shopping & comfortable lodging make Pemberton an alternate basecamp for your Whistler vacation.
Things to do in Pemberton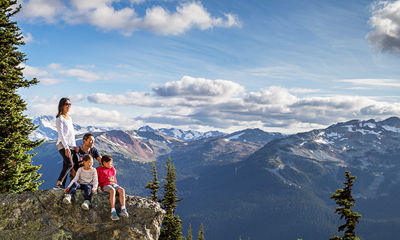 Spring, Summer & Fall - We've Got it all!
Sports enthusiasts converge on Pemberton from late spring to early fall to indulge in everything from hiking, biking, camping, golfing and horseback riding to rafting, jet boating, swimming and fishing.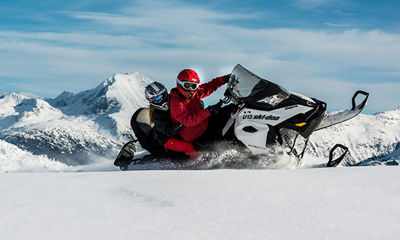 Let it Snow, Let it Snow
With its easy proximity to Whistler, Pemberton is a perfect launching pad to all that North America's Premier Ski Resort has to offer. In its own right, Pemberton is a winter wonderland with endless recreational possibilities including snowmobiling, back and cross-country skiing, snowshoeing, and ice fishing.
Need help booking?
We guarantee the lowest prices. Our team of Local Experts can help you plan the perfect Whistler vacation.
---