FIND THE PERFECT PLACE TO STAY
Village North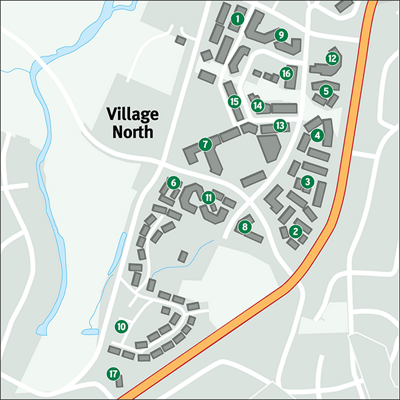 Map
Whistler Village North
For a great combination of convenience and seclusion, Whistler Village North is a fantastic choice.
Families and groups looking for larger, condo-style accommodation at lower rates and a lower key "village experience" will find plenty to choose from here, with a great selection of 1, 2 and 3 bedroom units.
Just an easy walk (or free shuttle bus ride) from the main village, it's a wonderful place to be if you like to stay connected to everything the main village has to offer and don't mind the short stroll to a quieter, more secluded home base.
Whistler Village North Properties
Things to Do in Whistler Village North
In the summertime, Whistler Olympic Plaza is the place to be for fantastic concerts and can't-miss events. During the winter, its home to an awesome outdoor ice skating rink and fun-filled Family Après – free kid-friendly activities and entertainment (on select evenings).
The cobblestone streets of Whistler Village North give it an old-time village feel with a variety of restaurants, cafés, and shops. Sample the classic offerings at Eddie Bauer and the world-renowned gear at Patagonia. Indulge in a timeless steakhouse experience at Hy's, then give in to the temptation of the stunning freshly-baked dessert goodies at Purebread. For your convenience, Whistler Village North even has its own Marketplace, a hub of local amenities including a supermarket, liquor store, and post office.
Need help booking?
We guarantee the lowest prices. Our team of Local Experts can help you plan the perfect Whistler vacation.
---