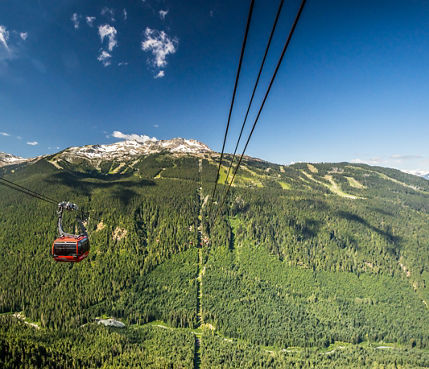 Nestled at the heart of British Columbia, Whistler is renowned for its exhilarating landscapes and vibrant outdoor culture. Here, majestic mountains, crystal clear waters, and pristine alpine lakes converge to create an all-year fly fishing paradise.

The diverse collection of waterbodies turns each session into a thrilling quest that rewards seasoned and novice anglers with a prized catch. Summertime fly fishing in British Columbia brings Bull and Cutthroat trout, salmon, and whitefish. Winter tests your skills against your Chinook and the prized steelhead salmon. The Pink Salmon Run turns rivers near Squamish into a gratifying pink spectacle every other year.

For anglers seeking an extraordinary adventure, Whistler fly fishing takes your angling pursuits to new heights with heli-fishing and float plane-fishing.


Top Fly Fishing Spots in Whistler
Whistler's diversified landscape offers many rewarding fishing spots to support your fly fishing adventure. You can discover them independently or hire a local guide. Some sites are readily accessible, while others may subject you to a bumpy 4x4 ride but reward you with solitude and a prized catch.

Besides the fishing gear and a fishing license, fly fishing in Whistler, BC, has minimal requirements. All anglers over 16 years require a valid fishing license to fly fish in BC. Grab your license, read the relevant rules and restrictions, and let the good times roll.


Green Lake

Surrounded by lush forests and majestic peaks, Green Lake is a charming and readily accessible fly-fishing hotspot ten minutes from Whistler Village. The glacier-fed lake is always frigid and home to various fish species. Rainbow and cutthroat trout, Kokanee, and Dolly Varden Char thrive in the lake, providing exciting challenges to all anglers.

A standout feature of this catch-and-release lake is the abundance of insect life. Caddisflies, mayflies, midges, and other aquatic insects attract hungry fish to the surface. Matching the hatch with the correct pattern becomes a gratifying game of deception. While you can cast from the shoreline, the middle of the lake provides the best catch and views.

Showh Lakes

Showh Lakes, Whistler's hidden fly fishing paradise, is tucked away in the rugged wilderness. The three little-known alpine lakes are ideal for driven anglers looking for a serene fly fishing experience. To access the lakes, you must overcome 16 miles of bumpy forest service road. But you're rewarded with an idyllic fly fishing spot away from the summer fishing crowd.

The lakes' ecosystem supports a healthy Rainbow and Cutthroat trout population, making each outing a rewarding and exciting challenge for all anglers. While you can wade and walk while casting from the shoreline, venturing on the lake with a kayak or boat can ramp up the catch and excitement.

Vibrant wildflowers, lush forests, and abundant wildlife surround the lakes. Keep an eye out for soaring eagles, curious deer, playful otters, and an occasional cougar while on the water.


Squamish River

Just an hour's drive from Whistler, Squamish River is a popular fly fishing destination for anglers looking to ramp up the excitement. The river is renowned for its diverse fish population, including coastal Cutthroat and Rainbow trout, Dolly Varden, and four Pacific salmon species. Squamish River allows anglers to test their mettle against the mighty, elusive steelhead salmon. The fish is prized for its strength and acrobatic display, creating an exciting fishing experience. While fishing here, you can cast from the shoreline or wade into the waters.
Guided Fly Fishing in Whistler, BC
Signing up for a guided fly fishing tour dramatically improves the experience and increases the chances of hooking a trophy. You can tap into the local wealth of fly fishing knowledge and have a local guide introduce you to the spots for fly fishing in British Columbia. Luckily, you can have your pick from numerous professional fly fishing guide services that guarantee the time of your life. Whether you're a beginner or a seasoned angler, these fly fishing services will help ramp up the experience.


Whistler Fishing Guides

Whistler Fishing Guides is a professional outfit committed to demystifying fly fishing and helping anglers maximize their experience. The group organizes fly fishing trips and provides the training and gear you need for a successful Whistler fly fishing expedition. Their dedicated and experienced guides will help you explore the best fly fishing spots in Whistler and hone your fly fishing skills. Service offerings range from half-day and full-day fishing trips to float plane and helicopter tours.


Valley Fishing Guides

Led by an FFI-certified instructor, Valley Fishing Guides caters to all your fly fishing needs, no matter how ambitious. Besides planning beautiful excursions that meet your exacting needs, Valley Fishing is committed to fly fishing education. It offers introductory casting lessons by the hour to ensure new anglers are off to a running start. The service also provides quality fishing gear and equipment to tag all available fish species. You can book half and full-day excursions, multi-day trips, and remote fly fishing trips via boat, helicopter, or float plane.


Pemberton Fish Finders

With more than 100 years of combined fly fishing experience, Pemberton Fish Finders connect anglers with thrilling fishing expeditions. The seasoned guides have an in-depth understanding of the local waters and fish behavior and will ensure you have the best opportunity to land a trophy fish. Their offering ranges from wake and wade trips on the Squamish River to Heli fishing tours on more than 30 coastal streams and virgin Alpine lakes in British Columbia, Canada. They provide fishing gear, flies, and lures with each tour.


Trout Country Fishing Guides

Trout Country Fishing Guides caters to fly fishing enthusiasts looking to reel in wild trout, salmon, and steelhead. Their services include group trips, casting lessons, and fishing classes. They will cater to your every wish, whether planning a mini 3-hour, half-day, full-day, or multi-day trip. They'll even whisk you to remote fly fishing locations on a helicopter or float plane.




Where to Stay
A restful night's sleep is an angler's best friend when fly fishing in British Columbia. It leaves you feeling refreshed, revitalized, and ready to reel in a trophy fish.
Booking a stay at the
Whistler Blackcomb
ensures you have every creature comfort you need for an exhilarating trip. The strategic location of the iconic resort opens a world of angling opportunities.
Explore more of
Whistler Blackcomb's summer activities
.