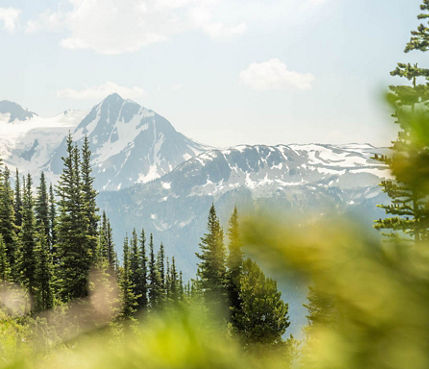 Breathtaking landscapes and pristine courses make Whistler golf a scenic summer sport. As summer rolls in, the mountains emerge from a snowy cocoon, revealing picture-perfect fairways winding through the valleys and forests framed by towering peaks.

The harmonious blend of nature and uniquely designed Whistler golf courses allow you to tee off in style, making golf one of the most rewarding Whistler summer activities.

Reserve a tee spot in any of these courses that consistently deliver the best golf in Whistler for an unforgettable golfing experience.




Tee-off Amidst the Skies on a Heli Golf Adventure
Heli golf
is a trifecta of your favorite things — scenic outdoors, golf, and thrilling helicopter rides. It's a luxurious golfing experience that whisks you on a short helicopter ride for a tee-off session at the top of Mount Currie.
A heli golf session comprises a 20-minute helicopter ride and a 30-minute teeing session and can be combined with a round at your favorite Whistler golf course or played as an independent event.
Book a solo session or join four golf buddies to enjoy one of the most exciting Whistler summer activities, departing from Pemberton Airport or Whistler Heliport. Or opt for a direct pick up from
Big Sky Golf course
.
Unlike regular golf courses, a Heli golf session has no holes, greens, bunkers, or fairways. Each session comprises hitting eco-friendly golf balls off the top of the mountain into the scenic landscape below.
Fine-Tune Your Swing on an Arnold Palmer-Designed Course at Whistler Golf Club
The
Whistler Golf Club
offers broad fairways set among beautiful mountains, lush forests, and glistening lakes. Designed by the esteemed Arnold Palmer, the par 72, 6,722-yard Whistler golf course is a functional work of art — it'll take your breath away and challenge your skills.
The scenic rolling greens, carefully placed bunkers, and
water hazards
make for a memorable golfing experience. The intricate layout turns each hole into a high-stakes challenge that pushes you to level up.
Beyond its stunning design, the Whistler Golf Club delivers world-class amenities and services. Professional staff will tailor services to suit your personal preferences. The well-appointed practice facility to help you
fine-tune your swing
before heading out to the course.
The clubhouse provides a luxurious retreat where you can refuel, relax, and savor the camaraderie of fellow golfers. Enroll for custom coaching sessions to polish your skills.
Battle the Legendary Bear's Ace at the Nicklaus North Golf Course
Nicklaus North Golf Course
is the pinnacle of golfing excellence. The picturesque golf course represents a harmonious fusion of nature and impeccable craftsmanship. Designed by the legendary Jack Nicklaus, this masterpiece easily offers the best golf in Whistler.
His architectural brilliance shines through every hole. Nicklaus blends contoured landscapes, natural terrain, and pristine lakes to create a demanding yet comfortable course.
The 18-hole course spans 6,961 yards and features water hazards, carefully placed bunkers, and narrow fairways set in an intricate layout. Each hole is a unique test of skill and strategy, demanding precision shots and unwavering focus. But the towering mountains and the scenic views create a serene environment that brings out the best in you.
One standout feature of the Nicklaus North Golf Course is its 17th hole. Known as the Bear's Ace, the signature hole is named after Nicklaus, the
Golden Bear
. It's set over a water hazard, and the green features subtle undulations that will tax your putting skills.
Play 18 Holes at Chateau Whistler Golf Club's Audubon-Certified Course
The prestigious
Chateau Whistler Golf Club
immerses you into the world of golfing perfection and unparalleled hospitality. Carved from the slopes of the spectacular Coast Mountain range, the golf course cuts across granite rock, ponds, creeks, and strands of Douglas fir.
The legendary Robert Trent Jones Jr. meticulously designed the 18-hole
Audubon-certified
golf course to blend with the natural surroundings. The mountainous golf course spans an elevation of 400 feet, throwing a host of unexpected challenges to every swing. Narrow fairways, rolling greens, and strategic obstacles compound the challenge.
Luckily, the majestic peaks provide a breathtaking backdrop, while pristine lakes and babbling creeks enhance the serenity of each hole. The world-class instructors at the
David Leadbetter Golf Academy
can help unlock your full potential.
A commitment to personalized service and attention to detail sets the Chateau Whistler Golf Club apart from its peers. The staff's warm hospitality and expertise will heighten your golfing experience, from golfing assistance to recommending local attractions.
Test Your Mettle on the 7,000-Yard Masterpiece at Big Sky Golf and Country Club
Nestled between towering mountains,
Big Sky Golf and Country Club
is a premium golfing destination at the heart of Pemberton. Designed by the renowned Robert Cupp, the championship golf course blends seamlessly with the natural environment.
The majestic peaks create a dramatic backdrop, while lush forests and sparkling lakes create a tranquil ambiance for an unforgettable golfing experience.
The thoughtful layout of the 7,001 yards masterpiece attests to the designer's strategic prowess. Tactically placed bunkers, rolling fairways, and undulating greens turn each of the 18 holes into a thrilling adventure. The towering mountains add an element of grandeur to your every swing.
The restaurant serves a delectable thoroughfare to help you recharge after a grueling round. Enjoy a delicious meal or sip on a refreshing drink against the panoramic views of the course and the surrounding landscape.
Level Up Your Golfing Experience this Summer
While the allure of Whistler golf courses lies in its stunning scenery and exhilarating gameplay, the warm hospitality and world-class amenities will keep you hooked.
Plan a golf vacation to Whistler Blackcomb with world-class facilities, delectable cuisine and panoramic views. Dedicated and attentive staff ensure your golfing adventure is one you will remember.
Learn more about
Whistler Blackcomb's summer offerings
.