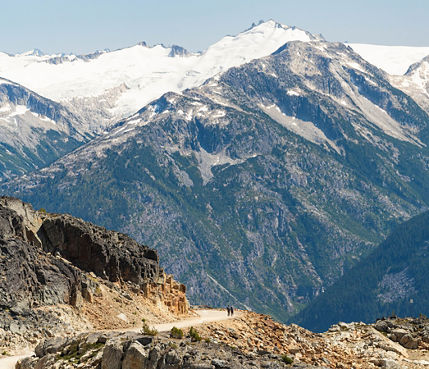 If you're planning a fun-filled summer holiday that includes kayaking, Whistler, BC, should be at the top of your list. Whether you're a seasoned pro keen to push the limits or a beginner learning the ropes, you have plenty of choices. Whistler is home to numerous tranquil alpine lakes and roaring rivers.

You might enjoy paddling leisurely on the stunning Green Lake, savoring the solitude of the Lost Lake, or practicing your paddling strokes on Alta Lake. However, if you want to test your mettle on the roaring Cheakamus River, you'll find that kayaking in Whistler, BC, guarantees an all-around fantastic experience.

Green Lake

Measuring 14 km long and 1.5 km wide, Green Lake is an excellent destination choice for glacier kayaking in Whistler. It runs along the Sea to Sky Highway, offers vivid turquoise waters, and extends 57 km along an irregular, rocky shoreline. Since it's tucked between mountain ranges, the waters are calm and welcoming to kayakers of all skill levels.

You can launch your kayak at the Green Lake pier, the Green Lake boat launch, or anywhere along the rocky shore. As you glide along the lake's tranquil expanse, the majestic Coast Mountains provide a breathtaking backdrop. You can paddle along the shore or across the calm waters to explore the Parkhurst site, a ghost town hidden in the woods.

Green Lake's convenient amenities include a public boat launch and a kayak storage area. Green Lake Park offers washrooms and picnic tables. Bring your own kayak, as there are no kayak rentals along the lake. Backroads Whistler and Whistler Eco Tours are the best choices for kayak rental in Whistler, BC. You can rent a kayak by the hour, for half a day, or an entire day. Green Lake is only 6 km from the Whistler Blackcomb Resort.

Alta Lake

With its three spectacular beaches, Alta Lake, the biggest lake in Whistler, offers the best kayaking in Whistler. You can navigate the beautiful lake surrounded by lush forests, towering mountains, and clear blue skies. Beginners can enjoy a relaxing paddle along the shore and discover serene inlets and hidden coves. Seasoned pros can paddle in the center for a reflective, meditative experience.

You can launch from any of Alta Lake's three vehicle-accessible beaches — Rainbow Park, Wayside Park, and Lakeside Park. The drive to the lake from Whistler Village is between 8 and 20 minutes, depending on the beach you choose.

Alta Lake amenities vary among the beaches, but they all include picnic tables and barbecues, washrooms, parking, and docks. You can bring your own kayak or rent one from the vendors on the beach.

Alpha Lake

Only five kilometers south of Whistler Village, Alpha Lake is a charming kayaking destination for all enthusiasts. The lake features calm, tranquil waters and breathtaking views of majestic peaks and lush forests.

At only 11.7 hectares, Alpha Lake is relatively small, but the expansive, irregular shoreline adds to the thrill of kayaking in Whistler. You can access the Lake from Alpha Lake Park, off Lake Placid Road, and conveniently launch your kayak from its swimming dock free of charge.

Alpha Lake Park offers various amenities, including washrooms, picnic tables, water fountains, and a dog park. There are no boat rentals at Alpha Lake Park, so you'll need to bring your own. You can easily rent one from Backroads Whistler, conveniently located in the nearby Wayside Park. Alpha Lake Park operates from dawn to dusk and offers on-site parking at $2 per hour.

Lost Lake

Quiet, peaceful, and picturesque, Lost Lake is a perfect kayaking destination near Whistler, BC, if you wish to escape the crowds while outdoors. The lake covers 167 hectares and offers clear, calm waters for an idyllic kayaking experience.

The lake is surrounded by a beautiful forest comprising towering evergreen and deciduous trees that create a stunning backdrop. During fall, the foliage transforms into a symphony of colors, creating mesmerizing reflections on the water's surface.

You can launch your kayak from the swimming dock at Lost Lake Park. The park has no dedicated parking area, but short-term parking is available on Lost Lake Road during summer. Leave your car in Day Lots 4 or 5 if you wish to spend the entire day on the lake.

Available amenities on Lost Lake include washrooms, picnic tables and barbecues, concession stands, and a dog-friendly zone. Nearby Park Eats means you're assured of tasty snacks, lunch options, and refreshing drinks. You'll need to bring your own kayak or rent one from a vendor offering kayak rental in Whistler, BC, such as Backroads Whistler or Whistler Eco Tours.

River of Golden Dreams

The River of Golden Dreams is an exhilarating kayaking destination in BC. The 5 km waterway connects Alta Lake to Green Lake and is an excellent choice for an off-lake kayaking experience.

The river meanders through a stunning landscape, offering diverse paddling options. Some river sections are ideal for beginners looking for a leisurely paddle on moving water. Other parts are more suitable for experienced paddlers looking for an adrenaline-pumping white-water experience.

You can start your trip at Lakeside Park, Rainbow Park, or Lorimer Road and terminate it anywhere. While you can explore the river alone, it can be dangerous. You're better off signing up for a guided Whistler kayak tour.

Cheakamus River

Nestled in the rugged wilderness, Cheakamus River is the ultimate kayaking destination for the seasoned kayaking expert seeking a challenging outing. The river offers dynamic, demanding water conditions that push your technical prowess to the limits.

It boasts a series of thrilling class III to VI rapids that demand precise maneuvering, expert navigation, and quick decisions. Negotiating the swift currents, swirling eddies, and complex wave formations requires strength, finesse, and experience.

The Cheakamus River offers three put-in sections — Upper Cheak, Balls to the Walls, and Daisy Lake — each offering a different kayaking experience. Cheakamus River is about 53 kilometers from the Whistler Blackcomb Resort.


Turn Your Kayaking Trip into an Exhilarating Adventure
Kayaking is a great summer activity, and Whistler is home to stunning kayaking destinations. Whether you're looking for a leisurely paddle on a tranquil lake or an action-packed adventure on a roaring river, look no further than Whistler.
Booking a stay at the
Whistler Blackcomb Resort
puts you close to the top kayaking spots in Whistler. The resort offers world-class amenities to let you start your day in style and retire in comfort after every kayaking outing.
Learn more about
Whistler Blackcomb 's Summer adventures
.