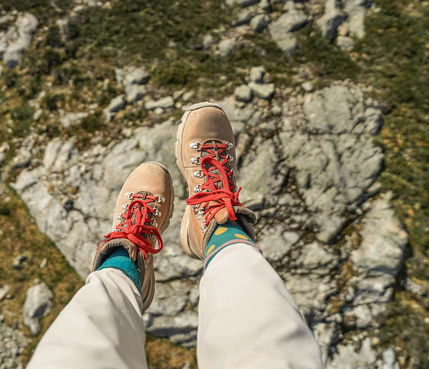 In summer, Whistler Blackcomb's legendary ski slopes transform into some of the most remarkable hiking terrain in North America. With two mountains connected by the PEAK 2 PEAK Gondola, Whistler hikers enjoy access to more than 50 km (31 miles) of high alpine trails. Hiking trails at Whistler Blackcomb of all distances and difficulty levels promise breathtaking panoramas. The high-drama volcanic landscape is dotted with ancient glaciers, alpine lakes, and old-growth forests. Plus, colorful wildflower meadows are at their peak in mid-summer, making Whistler hiking an especially scenic experience.

There are even more options for world-class Whistler hiking in the adjacent British Columbia Park lands. Day hikes vary from gentle nature walks with panoramic views to super-steep, strenuous routes requiring considerable preparation — and offering spectacular rewards.


Hiking Trails at Whistler Blackcomb Resort
An enticingly extensive network of trails at the Whistler Blackcomb resort means there's no need to leave the property to experience some of the best hiking in BC. Take a look at the Whistler Blackcomb
alpine hiking trail map
, which details 11 alpine trails on Whistler Mountain and five on Blackcomb, as well as the
Blackcomb Ascent Trails
. Note the "signature trail" logo marked on the map next to not-to-be-missed hikes.
Access the high alpine trails via
chair lifts and gondolas
. The PEAK 2 PEAK Gondola connects the two mountains, so you can experience the best of Blackcomb and Whistler hiking in one day!
Alpine Trails on Whistler Mountain
The 11 trails on Whistler Mountain range from easy options like the 0.8-km Cloudraker Loop to the 9.4-km, black-diamond High Note Trail. Consider combining the Spearhead Loop and Harmony Lake Loop for an intermediate-level day hike of 2 to 3 hours. This route offers amazing views of the Spearhead Range, Blackcomb Mountain, and Garibaldi Provincial Park and ends with a shady alpine forest descent.
The resort calls the High Note Trail "the best hiking experience on Whistler Mountain." The trail starts at the top of the Peak Express chairlift and rolls down to the Roundhouse Lodge, with an elevation change of 420 meters. Look up from the rugged terrain underfoot to take in views of Black Tusk and Cheakamus Lake, two dazzling local landmarks.
Alpine Trails on Blackcomb Mountain
Head to Blackcomb Mountain for a day of hiking and choose among five alpine trails covering easy, intermediate, and advanced levels of difficulty. For an easy hike taking less than an hour, explore the Alpine Loop. The gentle 1.4-km trail starts at Rendezvous Lodge and takes you by the Fitzsimmons Lookout, an unrivaled spot for photos and panoramic views of the valley.
The Overlord Trail spans 3.7 km for a 60- to 80-minute hike with views of Overlord Glacier and numerous alpine lakes. It's a fantastic trail in its own right, but it also has the benefit of connecting with the Lakeside Loop Trail for a longer, intermediate-level hike or the Decker Loop Trail for a steep, advanced route.
Blackcomb Ascent Trails
Unique among Whistler Blackcomb hiking options are the Blackcomb Ascent Trails. A series of three interconnected uphill trails starts at the valley floor, passes through dense, old-growth coastal rainforest, and ends in the high alpine zone of Blackcomb Mountain. Most hikers use the lift system to return — a well-deserved ride down the mountain after a tough, leg-straining ascent.
The first Ascent Trail, Little Burn, is the most mellow of the trio. It covers 0.8 km, meandering up to Base 2 and gaining 74 m in elevation. Next is Big Burn, a 2.2-km section gaining 494 m on the way to the Blackcomb Gondola Midstation. Continue (if you wish) for around 1 hour, 45 minutes up the Heart Burn trail, a 3.1-km route. This final stretch passes through the most impressive stands of old-growth forest and ends at the Rendezvous Lodge.
Guided Hiking in Whistler Blackcomb
If you want to benefit from the local expertise of a guide, consider booking one of the
guided hikes
along Whistler hiking trails. Options include private interpretive walking tours for an easy-level excursion packed with information about the wildlife, history, and geology of the mountains. Private hiking tours are more demanding but customizable according to your abilities and time frame. Both these guided excursions are available daily in summer.
There's also a "Fossils, Fur, and Fire Tour" designed for kids, available on Saturday mornings in summer. It includes fun details about local volcanoes, dinosaurs, rocks, fossils, and wildlife.
Heli-Hiking Tours from Whistler
For the ultimate backcountry hiking experience, consider a heli-hiking tour departing from the Whistler Heliport. With an expert guide and private helicopter as your shuttle into the remote backcountry, pursue off-trail hiking in some of BC's most spectacular subalpine and alpine terrains. Private tours are customized according to your group's fitness level and preferences, so this once-in-a-lifetime adventure isn't just for super-experienced hikers.
Blackcomb Helicopters
offers half-day and full-day heli-hiking tours from Whistler, all private tours for up to four people. Destination options include Callaghan, North Squamish, and Fowl/North Pemberton.
Mountain Skills Academy
also has heli-accessed hiking among its tour options. Their hiking trips feature custom routes around a pristine glacial lake.
Hiking Trails Near Whistler Blackcomb
Whistler Blackcomb hiking is exceptional, but resort guests might also consider heading off the property and into the adjacent
Garibaldi Provincial Park
. The famous mountain park boasts some of the best trails in BC. The
Black Tusk/Garibaldi Lake area
is especially popular for hiking, with the Garibaldi Lake, Panorama Ridge, and Black Tusk trails all notable challenges.
The Garibaldi Lake Trail is moderately difficult, spanning 18 km for a 5- to 6-hour day hike. Most of the route is characterized by forest and switchbacks. The star of the trail is at its end — the namesake lake with its pristine turquoise waters and snow-capped mountain backdrop.
Allow at least 10 hours to hike the challenging 31-km Panorama Ridge Trail. There are beautiful views and unmissable photo ops throughout. The trail is steep, with an elevation gain of 1,600 m, but doesn't involve any scrambling.
The iconic Black Tusk Trail is a true challenge requiring some serious preparation and optimal fitness, especially if you intend to tackle it in one day. The strenuous 28.5-km hike is without snow for only a few months in summer. A 360-degree panorama from the summit is unrivaled among Whistler hiking trails.
Ready to Hit the Hiking Trails at Whistler Blackcomb?
Visit
Whistler Blackcomb
to start planning an unforgettable scenic and adventurous summer vacation!