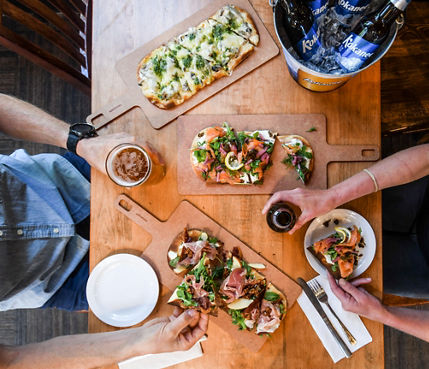 With skiing in the winter and mountain biking in the summer, Whistler Blackcomb is the largest year-round resort in North America. Because the bustling pedestrian-only village is in prime Pacific Northwest territory, much of the nightlife in Whistler is centered on breweries that feature craft and local brews on tap or in the bottle. Breweries in Whistler range from hole-in-the-wall local spots to full world-class restaurants. Which Whistler brewery to visit first will be the most challenging choice you will have to make.

High Mountain Brewing Company

One of the busiest breweries in Whistler Village, the High Mountain Brewing Company is centered on a large two-sided fireplace that keeps the ambiance warm and cozy during the cold winter months. Brewing its own microbrew selections onsite and offering tours of the process, it's a destination that beer lovers will not want to miss.

Besides the onsite craft brews, the High Mountain Brewing Company also offers a full food menu focusing on BBQ dinners and wood-fired pizzas. They also offer their beers to go, making this a great spot to hit up before heading back to the resort and throwing your own private party in your room or suite.

Whistler Brewing Company

It's worth the five-minute jaunt outside the village to visit Whistler Brewing Company, which produces nine core craft beer labels and several seasonal ones onsite. One of the real deal breweries in Whistler, they also offer brewery tours throughout the week, but advance reservations are necessary.

Inside the taphouse, you can sample their current craft beer selection by way of a beer flight. After that, pick your favorite and go with a pitcher to share with friends and family. The party-hardy crowd will be pleased to know that this is one of the few breweries in Whistler that offers keg rentals for special events back at the resort.
Coast Mountain Brewing

When it comes to breweries in Whistler Village, locally owned and operated Coast Mountain Brewing is the place that cannot be missed. This brewery and taphouse create nearly a dozen different premium craft beers onsite, including a Valley Trail Pale Ale and a Heart of Darkness Stout.

Enjoy these craft beers inside the rustic all-wood taphouse or outside on their heated covered patio. Coast Mountain Brewing is also one of the few breweries in Whistler that distributes its craft beers to restaurants and other bars not just in Whistler but in the wider BC area.

The Garibaldi Lift Company (The GLC)

Located above the Whistler Gondola building right within the Blackcomb resort, the Garibaldi Lift Company is a world-famous après-ski destination that sports a panoramic view of the bike park. With five different BC craft brews on tap and several other international options, it's one best places to grab a pint of Whistler and wind down after a long day on the slopes.

Those doing a tour of the top craft beer tastings and breweries in Whistler should put the GLC on their list simply for the giant stone fireplace and multiple outdoor patios. But what sets GLC apart from some of the breweries in Whistler Village is that they offer a full menu of classic après plates inspired by global cuisines. They also feature a tight selection of hand-made craft cocktails and offer a complete wine list.

Merlin's Bar and Grill

Specializing in local beer and cider on tap, Merlin's Bar and Grill is one of the must-visit craft beer bars in Whistler for those who want to craft beer in a comfortable setting. While Merlin's is designed to feel like a cozy mountain cabin, it also sports unique features like a suspended gondola DJ booth. It's a favorite hangout for local musical groups, many of which perform here regularly.

Most of the breweries in Whistler are just a short drive from Whistler Village, but because it's located at the base of Blackcomb Mountain, Merlin's offers craft beer right outside your door. Enjoy made-to-share plates that go well with the craft beer selection, like piled-high nachos in the large window-filled recreation room or out on the patio where views over the village are at their best.

The Fitzsimmons Pub

Located in the Upper Village area, Fitzsimmons Pub is a cozy local-style joint that claims the fame of being Whistler's original BC craft beer bar. With eight different taps that always feature a rotating selection of local craft brews, it's a mecca for beer lovers that should not be missed.

Couches and board games abound here, and it's one of the most friendly breweries in Whistler Village. The brewpub also has a thing for ciders, and you will find more than a dozen different varieties on their eclectic menu.

Hunter Gatherer

A local institution since it opened its doors in 2017, Hunter Gatherer is a taphouse in Whistler that pushes the limit between a fine dining experience and a neighborhood brew pub. The food and tap menu here focus on local and in-house products, from the hand-smoked salmon to the Woodnut Pale Ale.

Hunter Gather is located in the heart of Whistler Village, on Main Street, near other dining and nightlife options. The cozy but well-lit pub also opens onto a lush garden that doubles its seating capacity during the year's warm months.

Dubh Linn Gate Irish Pub

The only thing better than encountering an authentic Irish pub high up in the Rocky Mountains of Colorado is finding out that they also serve one of the largest selections of craft beers in town. Those doing a bar crawl of breweries in Whistler should not miss Dubh Linn Gate, and the excellent micro-brews on tap and large outside patio are just two of the reasons why.

The brewpub hosts a full calendar of live musical acts on their large onsite stage, from local rock tribute bands to authentic Celtic music. There is even a dancefloor where you can get your groove on after the craft beer hits the bloodstream. Dubh Linn Gate also serves an excellent selection of classic pub fare, including traditional Irish eats like cottage pie and bangers and mash.


Getting to Know the Breweries of Whistler
Whistler is a mini-epicenter of craft beer culture, which means that getting to know all the different breweries in Whistler is an adventure in and of itself. And because nothing else is as satisfying after a long day on the mountain as a quality microbrew, the scene here keeps growing and growing. Put yourself in the heart of the action by booking your next vacation at the
Whistler Blackcomb
today!