FEEL RIGHT AT HOME EVEN IF YOU JUST GOT HERE
Merlin's Bar & Grill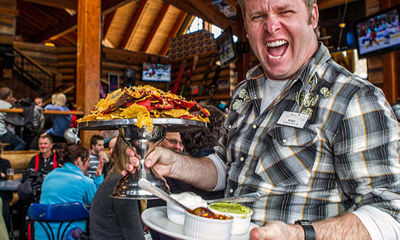 Laid-back Atmosphere
Located at the base of Blackcomb Mountain in Whistler's Upper Village—Merlin's vibe is just one small reason why après sessions are so off-the-hook.
Merlin's has cultivated the spirited vibe of an old-school recreation room party (free of fun-depriving chaperones) with its laid-back mountain cabin décor. The spiritual home of local rockers, The Hairfarmers, Merlin's offers good times, mountain-high nachos and flowing brews on tap.
Merlin's is currently closed until November for the winter season. Please check back soon.
For more information, call 604.938.7700 or email wbmerlins@vailresorts.com or check out our website here.
Merlin's is Whistler Blackcomb's most club-like venue. Dancing on the bar and any other flat surface is encouraged. Merlin's design and décor includes the following:
Spacious outdoor patio.
Wall-to-wall windows.
Live-music stage with full electrical hook ups.
Suspended gondola-car DJ station.
Upstairs mezzanine, additional seating and a smaller bar.
Want to take a closer look?