Christmas Season in Whistler
Oh What fun it is!
---
The holiday season is such a precious time of year and when planning your vacation, you want to be assured of something truly special.
At Whistler Blackcomb we pull out all the stops to create a magical experience with countless activities and celebrations for everyone big and small.
The village is teeming with holiday cheer (not to mention amazing shopping and dining), thousands of lights adorn the trees lighting up the night sky, abundant and reliable snow spread over endlessly stunning terrain, and two legendary mountains that deliver winter adventure like no other.
Holiday Tips
Make the most of the holidays with these helpful tips
GET UP EARLY and enjoy great morning conditions on the mountains.
STAY UP and don't return back to the Village until after 11am to avoid lift lines.
EAT SMART and have lunch on the mountains before 11:30am or after 1:30pm.
RENT SMART and rent your ski equipment the night before so you're ready to go in the morning.
Things to do
---
During the holidays, there's even more to do in Whistler than ever! Don't miss the annual Whistler Holiday Experience and family festivities on New Year's Eve. Below is a taste of what you can expect from your holidays at Whistler Blackcomb. More information and details for this next year's events will be added as they become available closer to the event.
Every Sunday at 7:00PM
Enjoy this free entertainment every Sunday night from mid-December until mid-March. The event starts at 7:00pm in Whistler Village (practice at 6:30pm) where you can watch the area's best skiers and riders hit big air and jump through blazing rings of fire. Sundays from December to March. 2022-23 dates TBD.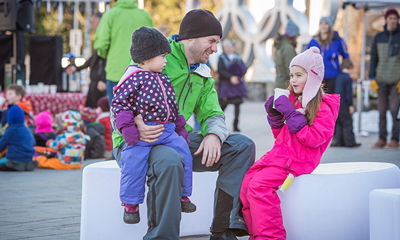 WHISTLER OLYMPIC PLAZA
FAMILY APRÈS
Whistler knows how to après and now the whole family can celebrate a great day on the slopes with even more fun at Olympic Plaza. Parents can share stories about their day with a warm beverage while their kids participate in a variety of outdoor, winter activities and entertainment each week. 2022/23 dates TBD. P: Tourism Whistler / Justa Jeskova
2022 Dates TBD
Four Seasons Whistler transforms their lobby into a sparkling Canadian pine forest to support the BC Children's Hospital and raise much needed funds to support children in their care. Everyone is invited to enjoy this lush forest of beautifully decorated trees, whether they are guests, locals or simply visiting Whistler.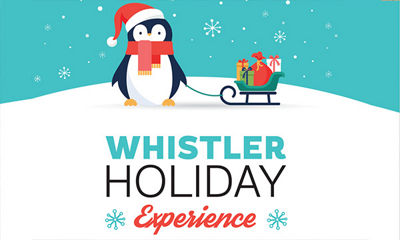 2022 Dates TBD
The Whistler Holiday Experience
This indoor family fun zone provides entertainment for kids and parents alike during the holiday season. Kids can enjoy a mini putt course, table games, bouncy castles, crafts and video games free for 15 days over Christmas and the New Year. Parents are catered for too - they can relax in the lounge area and enjoy a coffee or hot cocoa while the kids play. Please note that the Whistler Holiday Experience will be closed December 25 and open December 31 from 10a.m. – 6 p.m..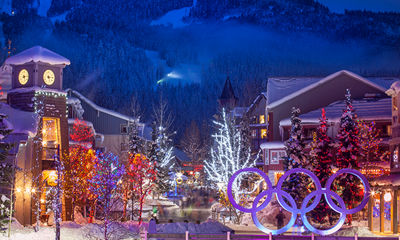 Daily | Whistler Olympic Plaza
Outdoor Ice Skating
Skate your heart out in the middle of Whistler Village. Whistler's outdoor skating rink is the perfect activity for the whole family offering free skating daily. Free helmets and push bars provided. $5 skate rental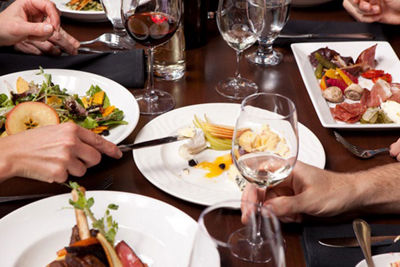 Christmas & Holiday Dining
Sitting down with friends and family for a special meal is a tradition for many people over the holiday season. Many of the restaurants in Whistler offer special Christmas and New Year's dinners, brunches, lunches and catering options to make you feel right at home.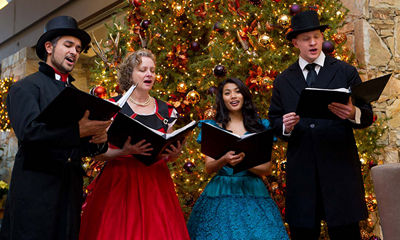 Christmas Eve Carol Service
The 36th annual Christmas Eve Carol Service is hosted by the Whistler Children's Chorus and Whistler Singers. It's an interdenominational celebration featuring traditional carols, choral music sung by the choirs and readings by community members telling the story of the birth of Christ. Come and enjoy the sense of community and 'peace and goodwill towards all' that this carol service creates. Entry is by donation. Photo: Tourism Whistler / Mike Crane
Whistler's New Year's Eve Celebrations
Say goodbye to the old and welcome in the new at Whistler's New Year's festivities for all ages. The excitement starts early in Olympic Plaza with an expanded Family Après or come in from the cold, get cozy and discover a variety of activities at the Whistler Conference Centre. Both venues offer entertainment starting at noon. Catch the excitement of the High-Flying Snow Show at 7:30 or at the Fire & Ice show at 11:30 PM, followed by fireworks at 8 PM and midnight. Fireworks are best viewed from Skier's Plaza, located at the base of Whistler Mountain. Free public transit within Whistler is available from 6 PM to 4 AM. Brought to your by the Resort Municipality of Whistler. P: Tourism Whistler / Mike Crane.
Enjoy a mountain size breakfast buffet at the top of Whistler Mountain and get your fill of fresh powder or perfectly groomer corduroy before everyone else. Upload the Whistler Village Gondola starting at 7:15am. Additional Fresh Tracks ticket required.
This isn't the tobogganing you remember from your childhood. More like multi-lane, high speed extreme tubing that just may be one of the best memories of your time here.
Get to know new areas of the mountains by taking a free tour from one of our experienced and knowledgeable guides. Meet daily at 11am outside the Rendezvous Lodge on Blackcomb Mountain or the Roundhouse Lodge on Whistler Mountain.
Purchase a Whistler Blackcomb Gift Card to give as a great present or just so you don't have the carry your wallet. A Gift Card works just like cash and can be used at all on-mountain and participating Village retailers.
Need help booking?
We guarantee the lowest prices. Our team of Local Experts can help you plan the perfect Whistler vacation.
---