THERE'S A REASON IT'S BEEN A LOCAL STAPLE FOR DECADES
Dusty's Bar & BBQ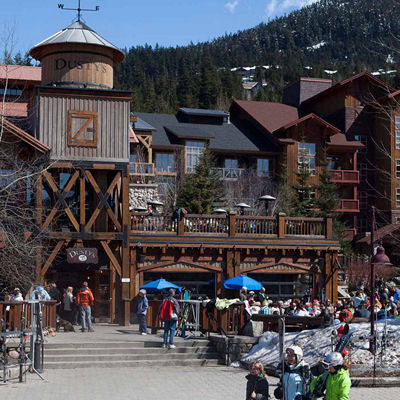 Dripping with Legend
Step into Whistler's original watering hole and go back in time to a place dripping with legend, lore and finger lickin' BBQ sauce.
Located at the base of the Creekside Gondola, Dusty's offers mouthwatering food, arguably the world's best Caesar, legendary après, party rockin' live shows and is open everyday 11 a.m. until late.
When we say Dusty's is full of legend and lore, we aren't kidding. Dusty's Bar & BBQ was named after Dusty, a stuffed horse that rode into Whistler in 1979 in the back of a pick-up. He was placed in the bar, and for almost a decade, watched over the regulars as they partied the nights away.
One full moon Friday, legend has it a female partier stripped totally naked and jumped on Dusty's back. Dusty bucked into life, burst through the bar doors, shook the shocked nude woman into a snowbank and galloped off into the night, never to be seen again.
The moral of the story? This is a place that will put the Wild back into the West.
For more information, call 604.905.2171
HOURS:
Monday - Thursday: 11:00am - 6:00pm
Friday - Sunday: 11:00am - 8:00pm
Check out our MENU online!
The design and decor include:
Whistler's sunniest and largest patios.
Golden wood walls, floors, ceilings and furniture.
Cozy interior fireplace as well as an exterior outdoor fireplace on the upper deck.
Antique mountain décor.
Large garage door style windows that roll up in warm weather to allow the outside in.
Want to take a closer look?
Previous tab
Previous tab
Best Après-Ski Eats Around the Globe
Our ears are burning, and it's not from the BBQ flames.

Word's been spreading about Dusty's. Take a look at what people have been saying:

Winter 2022-23
A++ BBQ. And barbecue is neither art nor science. It is passion.

Cuts of meat are rubbed with secret spices, slathered with sauce good enough to drink straight from the bottle, and then cooked "slow 'n low." That's how Dusty's BBQ is prepared by our team of professionals. And by professionals, we mean professionals.

In fact, the Dusty's BBQ team went on a 30-restaurant, 9-meal-a-day tour of the southern U.S. in search of the secrets to BBQ. Come in anytime to taste the difference going the extra mile makes.
About
Dusty's is home to those who call Whistler home. Located in Creekside where Whistler all began, this is where locals and long time visitors meet up and swap stories of secret stashes.

Setting high standards for perfectly seasoned BBQ, Dusty's offers great food in a western saloon-style restaurant constructed from materials of the original building.


CONTACT
Plan your next event in a place that's as iconic as it is comfortable. Dusty's is a legendary ski lodge in Whistler, that's been renovated and upgraded without sacrificing it's character or roots. Located at the foot of the 2010 Olympic and Paralympic Downhill course in Creekside, it offers easy access from the Creekside base.

It's rustic interior is made from refurbished beams and wood from the original building and the venue offers picnic table seating, wide-open space, a musical stage, a friendly, upbeat staff, and free parking to make things nice and convenient. And an open-centered mezzanine overlooks the main floor so everybody can get in on the action from anywhere in the building.

If you're looking to book Dusty's for a show, event, party, band or DJ, get in touch with our venue managers. We are happy to discuss and work with your budget and theme, and can offer an experienced and skilled catering team, locally-inspired menu, creative décor, and activation specialists.

Artists & Promoters: wbdustys@vailresorts.com
Event Planners & Organizers: wbgroups@vailresorts.com

Located at the base of Whistler Mountain, Creekside

2040 London Lane
Whistler, BC V0N 1B2
HOURS:
Monday - Thursday: 11:00am - 6:00pm
Friday - Sunday: 11:00am - 8:00pm

Phone: 604.905.2171
Email: wbdustys@vailresorts.com

Looking for a job at Dusty's?