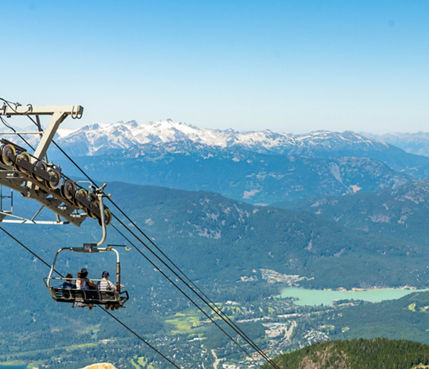 With world-class ski runs in winter and the allure of forest trails in summer, Whistler's mountain slopes get all the attention. That praise is well-deserved, but don't make the mistake of overlooking the many beautiful waterways tucked within the Blackcomb mountains! Explore those waters by booking a scenic boat tour – one of the most memorable activities available near Whistler Blackcomb.

BC boat tours are versatile, with options ranging from white-water thrills to leisurely float trips. Whether you're furiously paddling over rapids, shooting down a river at high speeds, or floating across a serene alpine lake, the scenery, experience, and memories are sure to be spectacular.




Experience Exciting River Rafting Tours in Whistler
River rafting trips on the Green, Elaho, Squamish, and Cheakamus rivers are all available to Whistler Blackcomb Resort guests, with various tour options to consider. Some scenic boat tours are designed to be just as fun for children and nervous beginners as they are for enthusiastic, adventurous types. If you're seeking more of a thrill, challenging white-water rafting trips are available as well.




Book a Seat on Wedge Rafting's Green River Rafting Tour at Whistler
Wedge Rafting, a company with over 20 years of experience running Whistler boat tours, offers the two-hour Green River Tour. The adventure starts just north of Whistler Village on Cougar Mountain, but you can book your boat tour at the Adventure Group activity office in Whistler Village.

You'll ride approximately six km down the Green River over Class 2 and 3 rapids, which Wedge Rafting says are bouncy and challenging yet accessible for first-timers. The tour is open to anyone ten or older. Wetsuits and life jackets are provided, and all rafts are accompanied by experienced guides.




Take an Adventurous or Family-Friendly Tour with Canadian Outback Rafting
Canadian Outback Rafting Company offers a range of white-water rafting adventures in Whistler from May through September. Departures are from the company's rafting resort in the Squamish Valley, and transportation from Whistler is available on request.

Two tour options are available:
The Elaho Exhilarator is for ages 13 and up and is suitable for adventurous beginners. It takes you over Class 3 to 4 rapids on the Elaho and Squamish rivers, with some gentler sections for floating. Allow around five hours for the entire tour, with approximately two and a half hours on the river.
The Cheakamus Splash is a family-friendly scenic boat tour over gentler waters on the Cheakamus River. It is for ages five and up. The tour includes around 90 minutes of rafting and lasts a total of three to three and a half hours from arrival to return.
Enjoy Serene and Scenic Canoe Tours in Whistler
A canoe tour in Whistler is a serene experience that involves plenty of action, while also being a great way to explore Canada's heritage. So it's no wonder that the River of Golden Dreams Tour, offered by Whistler-based Canadian Wilderness Adventure, is one of the most popular summer activities at Whistler Blackcomb Resort.

The tour is suitable for ages six and up, and all guests must be able to swim. You'll learn paddle strokes and steering from expert guides before experiencing the fun and thrill of flowing with the current from Alta Lake through narrow, greenery-filled passages and into the glacier-fed Green Lake. Expect to share the waters with ducks, geese, and beavers. Transportation from Dream River Park to Whistler Village is included.




How About High-Adrenaline Jet Boat Tours Near Whistler?
For the excitement of a high-speed boat ride with no paddling required, consider the Green River Thriller tour with Whistler Jet Boating. The scenic boat tour is available seven days a week from May to September and is for anyone ages five and up. It departs from the village of Pemberton, a 30-minute drive north of Whistler.

You'll ride at high speeds along the Green River to the base of Nairn Falls, all within the protected wetlands of Nairn Falls Provincial Park of British Columbia. The scenery is spectacular, with snowy peaks of the Coast Mountains all around and the chance to spot wildlife, including eagles, bears, and moose.




Head to Squamish for Spectacular Sailing and Water Sports
Drive 45 minutes south of Whistler to the small city of Squamish, and your options for British Columbia boat tours expand to include excursions on Howe Sound. This stunning fjord is a UNESCO Biosphere Reserve and a hub for water sports in summer.

Squamish Watersports offers the Pam Rocks Seal Colony Boat Tour as well as custom boat tours on Howe Sound. You might be able to swim with the seals! Three-hour tours for up to six are available. For a luxury sailing trip, contact Canadian Coastal Sailing in Squamish. They offer private or shared tours on a 40-foot sailing yacht. Daytime and romantic sunset sails are among the options.




Plan a DIY Boat Tour in Whistler with Canoe and Kayak Rentals
If you want to get out on the water without leaving Whistler, how about spending a day exploring the lakes and beaches at the resort? In summer, you can rent canoes from the concession at Lakeside Park on Alta Lake. There are also kayak rentals available at Wayside Park on Alta Lake. Then, enjoy even more outdoor fun by reaching the park with a hike or bike ride along the Valley Trail from the village.




Ready for a Whistler Boat Tour?
Planning your summer vacation at Whistler Blackcomb is always a pleasure. You'll look forward to your vacation even more if you plan to have a lineup of adventures ready to go. Visit Whistler Blackcomb Resort and start making plans today!