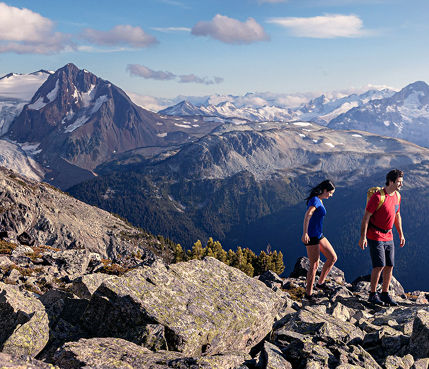 The double-peak paradise of Whistler Blackcomb is most famous as a snowsports destination in winter, but Whistler in summer is just as stunning. Summer is the best time of year for planning a visit for an adventurous vacation you'll never forget. Visitors looking for one of the best adventure vacations will love exploring the outdoors, pursuing unforgettable thrills, and appreciate soaking in the vast, glorious scenery when it's lush, green, and sundrenched.
Whistler in summer is the adventure vacation destination for outdoor activities. Outdoor lovers will delight in the resort's incredible natural beauty, and travelers from around the world come for the alpine lakes, waterfalls, glacier experiences and scenic mountain views. Your adventures might take you up the highest peaks, onto glaciers and lakes, into ancient forests, and back to the picturesque streets of Whistler Village.
360° Sightseeing at Whistler in Summer
One of the top reasons to visit Whistler in summer is the beautiful scenery, all transformed by the retreat of the snow and illuminated by sunshine. Take the opportunity to admire the best views of Whistler Blackcomb by riding the PEAK 2 PEAK Gondola. The engineering marvel spans Whistler and Blackcomb mountain peaks. Access the gondola from the Upper Village or Blackcomb Gondola and experience the best of both mountains in one day. From your seat on the gondola, otherwise, impossible views of glaciers, coastal rainforests, and volcanic peaks will take your breath away.

Another sightseeing must-do on Whistler Mountain is the Cloudraker Skybridge and Raven's Eye. Access is via the Peak Express chairlift (riders must be 40 inches or taller). A walk across the narrow bridge is a real thrill with incredible views, as is the Raven's Eye viewing platform.
Summertime Patio Dining in Whistler
Whistler's dining scene is always top-notch, but summer's warm temperatures and long hours of sunlight add a new dimension to the experience with patio dining. Some of the resort's best places for al-fresco food and drinks include the Roundhouse Lodge Umbrella Bar, promising 360-degree views from its prime spot at 1,850 m.

If you enjoy live music, Mountain Top Summer Feast at the Roundhouse Lodge on Whistler Mountain, which takes place on Friday, Saturday, and Sunday evenings. Local staple Dusty's Bar and BBQ, located at the base of the Creekside Gondola, is popular year-round. In summer, its expansive patio is a real hot spot in Whistler and the perfect place to try Dusty's signature Caesar.
Hiking at Whistler Blackcomb
Hiking is absolutely one of the best things to do in Whistler in summer. Over 50 km of alpine trails open up to hikers during the summer season. There are trails suitable for all fitness levels spread across two mountains. Consult the trail map and choose a route that suits your style. Just a few great options among 14 interconnected trails include the Alpine Loop on Blackcomb Mountain for easier terrain and prime wildflower viewing and the moderate-level Harmony Lake Loop on Whistler Mountain.

For a real hiking challenge, consider the super-steep Blackcomb Ascent Trails. These uphill trails span up to 6.2 km with 1,200 m of elevation gain. Dense, old-growth coastal rainforest makes for shady, scenic terrain. Early summer visitors should take a hike amid the giant snow walls. Carved in a labyrinthine course through the remains of Whistler Mountain's deep snowpack, the walls are a unique attraction present for just a few brief weeks. Want some guidance on the trails? Guided hiking and walking tours are available.
Mountain Biking at Whistler
Whistler Mountain Bike Park is world-renowned and boasts the most terrain of any bike park in North America. Its four distinct zones feature over 80 km of trails suitable for all experience levels. Stop by guest ervices in Whistler Village to purchase bike park passes and find out which zone is best for your skills. You might also sign up for lessons at the Bike School.

Access the Fitzsimmons Zone via the Whistler Village Gondola for options spanning five difficulty levels. The Garbanzo Zone is designed for intermediate to advanced riders, while the Creek Zone is only for advanced and expert levels. Book a Peak Ride lift ticket to access the Peak Zone and the Top of the World Trail, which is open to a limited number of riders per day. The Bike Park also features the Gatorade Skills Park with jump and drop features.
River and Lake Adventures
Whistler's pristine lakes and rivers are always stunning, but they have a special allure on warm summer days. Get out onto the water with a thrilling white water rafting trip on the Green River just north of Whistler Village. They're available for all ages and skill levels. A more serene way to spend a day on the water is the River of Golden Dreams canoe trip. One of the best things to do in Whistler in summer, this float tour is a leisurely passage from Alta Lake to Green Lake. You'll learn to paddle, navigate narrow passages, and admire gorgeous greenery and bird life.
Golf at Whistler
Golf enthusiasts who are visiting Whistler Blackcomb in summer will definitely want to book a tee time at one of several world-class golf courses. Options include the Arnold Palmer-designed Whistler Golf Club, framed by high peaks and winding around lakes and creeks, and the renowned Nicklaus North Golf Course. Named for its legendary designer, this course features Nicklaus's signature bunkers and challenging par threes. Also in the vicinity are the Chateau Whistler Golf Course, designed by Robert Trent Jones, Jr, the Big Sky Golf and Country Club, and Furry Creek, all known for their beautiful landscaping and challenging play.
Summer Glacier Skiing
Don't let the summer season stop you from skiing or snowboarding! There are various summer glacier camps available at Whistler Blackcomb, all suited to advanced and expert levels only. These camps offer a range of high-level training opportunities and/or recreational fun for serious skiers and snowboarders. Learning from some of the world's best instructors is an amazing opportunity. Book directly through the host companies listed on the Whistler Blackcomb website.
Take a Guided Tour
A wide range of guided tour options are available in Whistler in summer. A few highlights include a bear viewing tour to admire the mountain's resident black bears while out of hibernation, food-tasting tours in Whistler Village, and helicopter sightseeing tours for unrivaled views of the resort's famous slopes and mountain peaks.

How about an ATV tour? Some ATV tour options include a salmon bake after you traverse mountain trails and old-growth forests.
Is Whistler Worth Visiting in Summer?
Yes! Without a doubt, there are so many amazing things to do in
Whistler in summer
that planning a vacation in the beautiful BC mountains is a no-brainer.
Get started
with planning your adventurous vacation today.