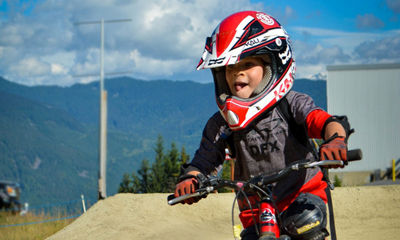 Overview
DFX Kids
It'll be their best day of the week; any day of the week. The Whistler Mountain Bike Park DFX Daily Kids programs are undoubtedly among the best in North America. With the guidance of our fun, energetic and skilled coaches, there is no better way for your child to experience the thrill of mountain biking in a supervised and controlled environment.
This camp is available for all riders from Beginner to Expert.
Beginner riders need to be comfortable riding a two wheel bike without training wheels and confidently be able to use hand brakes.
Groups will be split by ability and age. Children may be placed in different age groups to accommodate ability.
Maximum of 6 children per coach.
Includes 10 Drop in Lesson and a season pass.
LESSON DETAILS
---
Required Age
5 - 12 years
13 - 16 years
Required Ability


Beginner, Novice, Intermediate, Strong Intermediate, Advanced, or Expert Riders.
BEGINNER CLASSES
Beginner classes may not descend down the Bike Park on the trails; readiness to descend will depend on the ability and stamina of the whole group. Beginner lessons not riding down the mountain will be spent in the learning areas at the top of Fitzsimmons Chair and on the trails in the valley.
Beginners need to have been off training wheels for at least a year, be CONFIDENT on their bike, have good balance and be comfortable using hand brakes.
IS LUNCH PROVIDED?
Lunch is provided. A variety of lunch options will be available, if your child has food allergies please inform your child's coach. Lunch will be eaten at the CLC (Children's Learning Centre) our indoor kids facility located at the mid station on Whistler Village Gondola..
A Hydration Pack is highly recommended for use on the trails. Water fountains are only available at the top and bottom of the Bike Park.
WHAT CLOTHING SHOULD I BRING?
If you have your own Full Face helmet, bike gloves and arm and leg pads please bring them with you. Rentals ae available as part of the lesson if you do not have your own.
Please dress appropriately for the weather/temperature. Shorts and T-shirt are fine with a sweater or track pants for colder days. Closed toes shoes are required, no sandals or flip flops. We will be riding in all weather, so please be prepared with rain gear and sunscreen!
Booking your 10 Lessons
Once you have purchased your 10 time pass you will need to book your 10 lessons. Please email Bike School Sales at Wbbikeschool@vailresorts.com or wbreservations@vailresorts.com, or call us at 1-800-766-0449, to book you individual lessons. This can be done one at a time or all 10 lessons in one go. You will need to collect your daily lesson voucher from Bike School Sales before each lesson, this can be done in advance.
All purchases are transacted in Canadian Dollars and are subject to applicable taxes. Prices and dates are subject to change without notice.